Spektrum DXC3 entry level computer radio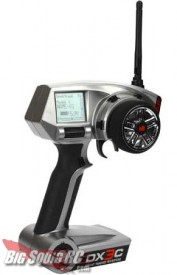 Spektrum has another new radio for entry level enthusiasts.  The DXC3 is a 3 channel, 2.4 GHz radio built on Spektrum's DSM2 tech.  Among the features of the DXC3 include 20 model memory, assignable switches, programmable channel mixing, four-way steering mixing, and all the various other things you should expect in a modern radio like trims, servo reversing, and exponentials.  Spektrum also has a few different grips available in various sizes so you can adjust the feel of the radio to your tastes.  There's also a SD card slot hidden under the grip to make software updates to the radio quick and easy.  Spektrum is also saying that this radio is marine compatible, unlike some of their earlier entries.
The list price for DXC3 will be $179.99 with street prices probably about $50 less and it should be available "soon."  Check out the Spektrum website for more info.