Splinter Cell Blacklist Collector's Edition with RC Plane!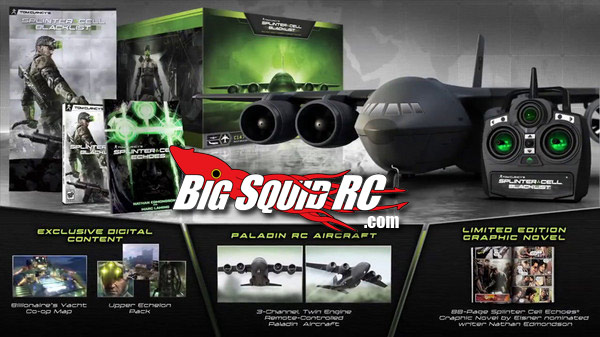 Wow! When we started seeing games ship with RC cars, I thought that was pretty wild, but anyone can 'drive' a rc car. Now Ubisoft has announced the Splinter Cell Blacklist Collector's Edition is going to come with a 3-Channel Custom RC Plane! This one blows our mind because we know not 'anyone' can fly a plane. It's a dual motor ducted fan setup, and a 2.4GHz radio system. The collectors edition also comes with a graphic novel, exclusive content, and I'm sure there a game in the box somewhere, but seriously.. a plane!
Check out the video for more info!
Have you seen our other video game RC product reviews? There was the Gears of War 2 Centaur Tank Review, and the Call of Duty – Black Ops RC-XD Review.
It's still Friday, time for one last Mystery Link.