ST has SC parts…
ST Racing Concepts is showering us with gifts today! Well, not really gifts, but a bunch of new products for all you short course enthusiasts out there to buy. Whether you got a new Traxxas Slash 4×4, an HPI Blitz, or an OFNA Hyper 10SC they've got something new for you.
The Slash 4×4 is still brand new, but ST is on the ball with a CNC machined aluminum center shaft front drive hub (or CMACSFDH for short). This will drop right in place of the stock plastic piece and let you put down even more insane power. Bullet proofing the drive train is always a good idea whether you race or bash. It just makes sense. Your have your choice of Blue, Gun Metal, Red, or Silver to match the scheme of your ride. MSRP is only $9.99.
Dissatisfied with your Blitz's stock steering bellcrank? Try STRC's new CNC machined aluminum bellcrank, it'll flex a lot less than the stock bellcrank when used with high torque servos or under harsh conditions. You can get it in any of these colors: Orange, Gun Metal, Silver, or limited edition Red. MSRP is $27.99.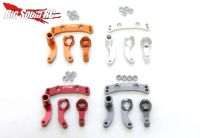 Finally those of you that went with an OFNA SC10 shouldn't feel left out in the rain. For you they've got an CNC machined adjustable position battery plate that allows you to shift your battery by 10, 20, or 30mm; allowing you to fine tune your truck's weight distribution. Your color options are limited to the monochromatic: Gun Metal or Limited edition Silver. MSRP, cheapest yet! $9.25.
Get all this information and more at ST Racing Concepts' site!