ST Racing Concepts – 17mm Hex Conversion for Slash, Stampede, Rustler and Bandit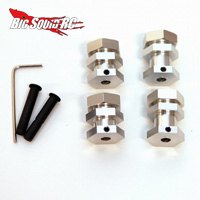 Just got the news about the ST Racing Concepts 17mm Hex Conversion for the Traxxas Slash, Stampede, Rustler, and Bandit. This conversion allows people yo bolt on 1/8th scale buggy tires onto their Traxxas rides! While probably not legal for racing, it's going to add some serious traction and durability to those vehicles! A cool feature is the set screw behind drive pin design so you won't loose any drive pins!
Available in blue, gun metal, red and silver.