ST Racing Concepts Axial EXO Terra Buggy Hop Ups Review
THE ST Racing Concepts Axial EXO Terra Buggy Hop Ups Review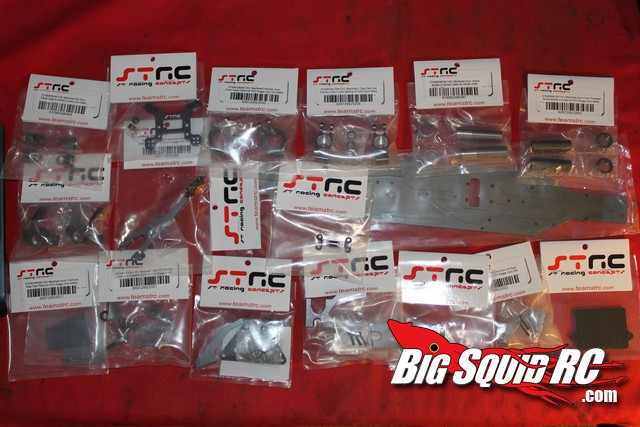 STRC has created quite a reputation of putting out flawless after-market upgrade parts. We've been bashing and thrashing a bunch of STRC upgrade parts for our Axial EXO Terra buggy for a few weeks now. Do they stack up to the big rep? Do they take the EXO to another level? Read on..
From: ST Racing Concepts
Direct Link: ST Racing Concepts Axial EXO Terra Buggy Hop-Ups
Review By: Cubby
Pics By: Cubby
Part Numbers:
STA30798H- CNC HD 4mm Alum Lower Chassis- $60
STA80099GM- CNC Alum Front Steering Knuckles- $39
STA30799GM- CNC Alum Front and Rear Skid Plates- $12
STA30800GM- CNC Alum Motor Mount/Motor Cam/Center Bulkhead- $33
STA80035GM- CNC Alum Shock Caps- $17
STA80036GM- CNC Alum Shock Bodies and Collars- $20
STA80096GM- CNC Alum Shock Bodies and Collars- $20
STA80093GM- CNC Alum HD Front Bumper Mount- $10
STA80094GM- CNC Alum Rear Lower Shock Mounts- $18
STA80097GM- CNC Alum HD Front Tower- $18
STA80097RGM- CNC Alum HD Rear Camber Link Mount- $16
STA80099GM- CNC Alum Front Steering Knuckles- $39
STA80101FGM- CNC Alum/Graphite Front Chassis Brace- $24
STA80101RGM- CNC Alum HD Rear Chassis Brace- $24
STA80102GM- CNC Alum HD Steering System w/ Graphite Rack- $40
STA80104-1GM- CNC Alum 1 Degree Rear Hub Carriers- $31
STA80106GM- CNC Alum Front Caster Blocks- $37
Test Drivers: Cubby, Brian, Tim, and Iron Mike
Test Venues: Indoor track at Leisure Hours in Joliet IL, backyard, outdoor track at RC Outlaws in Collinsville IL, and multiple cul-de-sac's
Installation & Build Quality: As typical for anything with the STRC logo on it, everything bolted up perfectly. There was no need to modify any parts for a flawless install, and build quality was superb. Also, we selected "gun metal" as our color of choice. With certain other brands the color can vary a bit from part to part, not so with STRC, all the parts were the exact same color.
Durability: After a good healthy dose of BigSquidRC abuse, none of the STRC parts were bent or damaged in any way. Mad props. We did our normal test regime of jumping off roofs, slamming concrete curbs full speed, etc, and the STRC parts proved rock solid.
Misc Notes:
Shocks- I've always liked the fit and finish of STRC shock parts. Our EXO test units worked great with no issues. However, the Axial branded hop-up shock caps we reviewed a few months ago come with bleeder holes and the STRC units do not. Not a huge deal, but shocks equipped with bleeder caps are easier to build than those without. Also, the front shock bodies could have used more threading for the shock collars. Why? Because we could not attain proper front ride height (when using the stock front Axial springs) because the STRC shock collars would not thread down far enough.
Steering Rack- Superb piece here, much better than the Axial upgrade unit we reviewed a couple of months ago. Simply less slop than stock or the Axial upgrade units with no binding. Be sure to use grease on the servo saver surfaces that mate together for it to work properly.
Motor Mount- The STRC unit fixes one of the problems of the stocker, but creates another. STRC ditched the beveling and grub screw of the stocker which was great news. We never had a problem with our motor moving with the STRC mount, it was held in rock solid. But, the STRC design does not allow access to the pinions grub screw unless you remove the motor entirely from the mount. This makes tightening the pinion, adjusting its depth, or replacing it more difficult than it needs to be. Lastly, the hole you must slide the pinion through to mount the motor up isn't that large, thus limiting you to the use of smaller pinions.
Thickness- I am going to assume that you are just like us- you don't go out and avoid things, you actually slam things hard. Most of the STRC pieces are quite a bit thicker than the Axial upgrade pieces we have previous reviewed. The thicker the better IMO for bashing purposes, and STRC doesn't skimp on the metal.
Chassis- We taco'ed out our stock chassis early in our initial review. The STRC chassis is stiffer than stock and took an outrageous beating without bending. Kudos.
Binding- We found zero binding on any of the STRC pieces. Great attention to detail, obviously someone has a good stern handle on QC during the production process over at STRC.
Bearing access in hubs- Getting bearings out of aluminum hubs can be a nightmare (you've been there before, you know what I mean! LOL). Luckily STRC has cut out little access areas inside the hubs to make bearing removal much easier. That is seriously awesome and smart thinking.
---
As with all of our stuff, if you see us at a bash, stop by and check out the vehicles we have with us. We may let you take a test drive, and at the very least get you some stickers!
SUMMARY
Time To Bash – 8.0/10 -The ST Racing Concepts parts bolt right up with no hassles.
Car Show Rating – 9.5/10 – Gorgeous looking parts.
Bash-A-Bility – 8/10 -All the STRC EXO parts we tested came through without bending or breaking even after an insane beating.
Fun Factor – 9/10 – How fun is it to be driving the trickest and toughest EXO at the bash park? A LOT OF FUN, that's how much.
Value- 8.5/10 – When you pull a big hand full of hard earned cash out of your wallet you expect a lot of return for your money. All the STRC parts were spot on.
Big Squid Rating – 9/10 – Tentacles.. IMO when you buy hop-up parts you expect 3 things- to look better than stock, to be tougher than stock, and to work better than stock. The STRC parts certainly accomplish all three. The STRC parts are everything you expect when buying uber hop-up parts and are well worth the cash. If you are truly serious about hardcore bashing your EXO, the more STRC parts you put on your buggy the better.