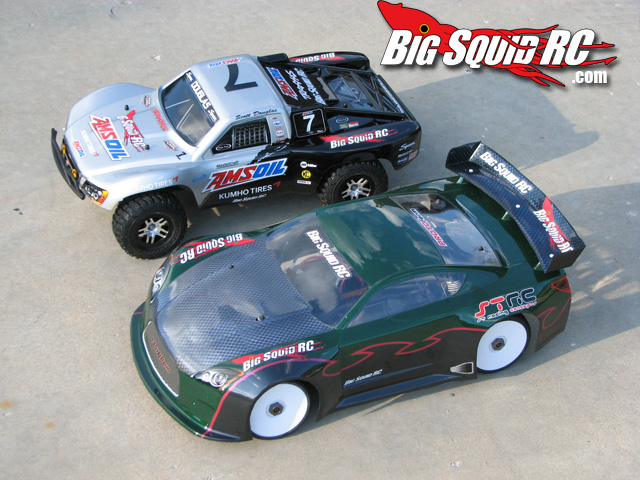 Recently the folks over at ST Racing Concepts released a GT-8/Rally conversion kit for the Slash 4×4. Is your Traxxas Slash 4×4 already collecting dust, and you think you need to breath some new life into it? Would you rather be driving more of a rally car that a short course vehicle? Can you believe that under the hood these are almost identical vehicles? Does STRC have another conversion hit? Keep reading to find out our thoughts…
From: ST Racing Concepts
Product Page: STRC GT-8 Rally Conversion for Slash 4×4
Review by: Brian and Wrench
What's in the kit: The conversion kit includes the following, CNC Machined Aluminum HD Front lower bumper, 3mm Graphite Upper Bumper hold down plate, CNC machined Aluminum bumper posts, CNC Machined Aluminum Front lower hinge-pin block, CNC Machined Aluminum Front Bumper/Gearbox brace, CNC Machined Aluminum Rear Lower hinge-pin block, CNC Machined Aluminum 17mm Hex Adapters, CNC Machined Aluminum 17mm Hex adapter hold-down nuts, CNC Machined Aluminum 17mm Wheel Nuts, All screws and hardware necessary to install. It reads like a lot of stuff, but really there is not much to it.
What you need to provide: Your going to need a foam front bumper (We used the Kyosho GT8 bumper). A 1/8th scale body, we used the PROTOform PF8-GT. And a set of 1/8th scale buggy on-road rims/tires, once again we went with Pro-Line for our needs here.
The Build: The overall build went extremely smooth. The build quality of STRC parts has always been top notch, and once again they have hit that mark. While we would really like to see them start to include directions with their kits, the entire step by step build can be seen online HERE. It's well done, and easy to follow. If you are thinking about doing this conversion, head over there and check it out first. From start to finish was under an hour. (Not including painting.. nice work Wrench!)
Misc Notes:
Make sure you use some sort of loc-tite on the axle threads for the hex adapters as shown. I believe we missed one or two, and it wasn't long into testing that our car was going one way and a tire was going the other. Something else to note, while some people want to bring the body down even lower (we thought so too originally) it seems the stock body posts work very well at their height. The body is higher off the ground than a on-road, this is a rally, you want that extra lift with the soft suspension of the Slash. If the body sat any lower, it would be rubbing on every turn, and especially the jumps if you were really doing some rally action!
Behind the Wheel: Our test driving was filled with all sorts of discoveries. The big one was, that the vehicle still drives a lot like a 4×4 Slash. It's really hard to be driving this conversion and think slash. It just looks so different, when in reality there's not much different that would of changed the handling characteristics of the truck besides the wheels and a bit wider (about 1/2 a inch on each side) stance with the hex adapters. So while it looks like a GT-8/Rally vehicle, it has a very different feel. It's much lighter than a normal 1/8 scale rally would be, and probably a bit tougher.. it is a Traxxas under the hood, so you can still bash the heck out of it, and look way cooler while doing it! During testing we had no major issues with any of the parts, and nothing broke.
Overall:
If you are looking to turn some heads at the track, the GT-8 conversion will do just that! Most of the people we showed it to really liked the new look, and they were excited to see it run. STRC again did a great job on another conversion. I like the fact that they are giving the Traxxas 1/10th scale stuff some love. They should start pumping out conversions for Slash's the same way Traxxas pumps out the 1/16th scales. If only I could find a 1/8th scale Ken Block or Tanner Foust body! Anyway, if you have a Slash 4×4 collecting some dust, head on over to the STRC web page and check out a conversion kit! It's not expensive, but it's not as cheap as the 2wd LCG kit which may get a few people thinking twice, but if you have a Slash 4×4 you really are not getting any fun out of, go give it a shot.
Summary

| | |
| --- | --- |
| Time to Bash | 8/10 Pretty quick for a conversion, though you need to buy/find some parts on your own for this one. |
| Workability | 10/10 As always the STRC parts were perfect and easy to work with. Don't forget the loc-tite. |
| Car Show Rating | 10+/10 Talk about snapping some necks and popping some eyeballs. Walk into any track holding one of these and you will be the center of attention. |
| Bash-A-Bility | 10/10The STRC parts are built tough, on top of that your running a Traxxas! |
| Big Squid Rating | 9/10 Tentacles… A cool fun conversion. Solid build all around. A little more money than the LCG conversion, but this is a pretty specialized kit. |
Don't forget to check out the review of the 2wd Slash LCG Kit from STRC here.