ST Racing Concepts hop-ups for Jammin SCRT10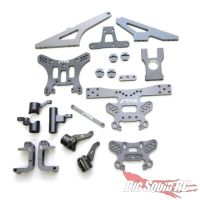 You know you've made it when you get a load of aluminum and carbon fiber hop-ups made for you.  The Jammin SCRT10 has made it.  Those masters of CNC machining, ST Racing Concepts, have a whole lot of new metal for the SCRT10.  So much in fact that I'm just gonna bust out the generic HTML list on yo azz.
Aluminum Front and Rear Chassis Braces
Aluminum HD Front Shock Tower
Aluminum HD "Tall" Front Shock Tower
Aluminum HD Rear Shock Tower
Aluminum HD Front Steering Knuckles
Aluminum HD Front C-Hubs
Aluminum Steering Bellcrank System
And just for a change of pace.
Graphite Steering Upper Plate
There's a lot here with MSRPs ranging from $11.99 up to $29.99.  Check out the STRC web site for more info.