ST Racing Concepts Losi Ten SCTE Upgrade Review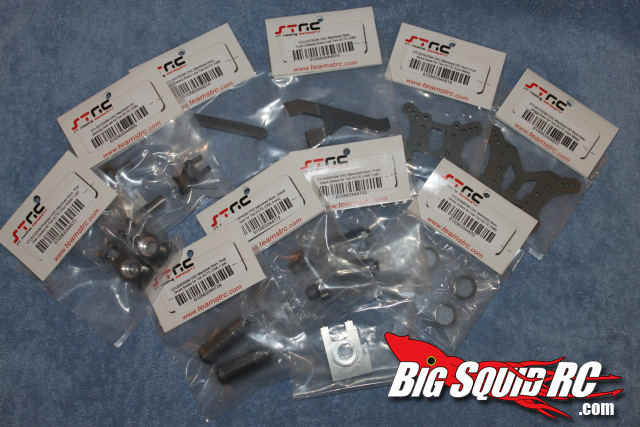 There are many ways to enjoy our hobby. Driving probably tops the list for most, but some enjoy doing intricate airbrush paint jobs, some enjoy building the smoothest diffs, while others simply enjoy hopping up their truck to make it the best it can be. STRC puts food on their table catering to those that enjoy hopping up their rides as much as driving them.
I've used numerous STRC parts in the past and I've never been disappointed. Hobby shops are littered with junk hop up parts, but STRC has always been associated with putting out quality. Are STRC parts still high quality? Are they the best you can buy? Read on…
From: ST Racing Concepts
Product Page: STRC Losi Ten-SCTE 4×4 Parts
Review by: Cubby
Pictures by: Cubby
Products Tested–
STLB2278GM – Rear Chassis Brace – $13
STLA2278GM – Front Chassis Brace – $20
STLB2103GM – Rear Hub Carriers – $38
STLB2163GM – Heavy Duty Front Tower – $21
STLB2170GM – Heavy Duty Rear Tower – $24
STLB2123GM – Heavy Duty Steering Rack – $35
STLB3592GM – Center Bulkhead – $20
STLB2826GM – Rear Shock Bodies – $17
STLB2825GM – Front Shock Bodies – $15
STLB2908GM – Shock Collars – $17
STLB2904GM – Shock Caps – $20
Quality– All the STRC parts we tested were flawless. Installation went perfectly for all parts with no need to alter or modify any part in any way.
Misc Notes–
O-rings came pre-installed in the shock collars, a nice touch.
Shock action was very good, and none of the shocks leaked a drop.
None of the STRC parts came with instructions, so remember to use blue Loctite when installing metal to metal parts.
The STRC steering rack includes the servo saver for the Losi SCTE. Action of the saver was not smooth enough without the use of some grease on the mating surfaces, I used Associated kit black grease to make the action perfect.
Summary

| | |
| --- | --- |
| Time to Bash | 9/10 We didn't need to mod anything, making installation arguably faster than even the stock parts, and certainly faster than other aftermarket parts on the market, but switching out some of the parts can take some time. If you can't stand wrenching on your truck these parts are not for you. |
| Workability | 10/10 The STRC parts were flawless, easy to install and never needed working on. |
| Car Show Rating | 10/10 Some aftermarket parts only come in blue, or only in red, but with STRC you have a wide choice of colors. Our test units came in the Gun Metal color which I prefer and everyone around the office loved the way they looked. |
| Bash-A-Bility | 10/10We drove our STRC equipped Losi Ten SCTE like we stole it and none of the STRC parts broke, bent, or stripped, they were all rock solid. All the STRC parts are so beefy that if you do manage to break one most likely the rest of your truck is already destroyed. |
| Big Squid Rating | 10/10 Tentacles… Absolute perfection, if you are looking for the best aftermarket hop-up parts for your Losi Ten SCTE here they are. |
Don't forget to check out the review of the Losi Ten SCTE!