ST Racing Concepts Shows Support for Team Associated SC10
ST Racing Concepts just sent word of a ton of new hop-up parts for the Team Associated SC10! These pics show off the cad drawings, with the real versions due sometime in the next week. The STRC stuff we have used on our Traxxas Slash has been nothing short of awesome, and I'm sure these parts will follow in those footsteps.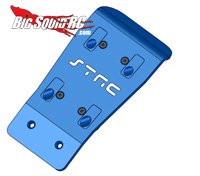 I'm sure there are a lot of people waiting for this stuff! Head over to the ST Racing Concepts and get ready to order.