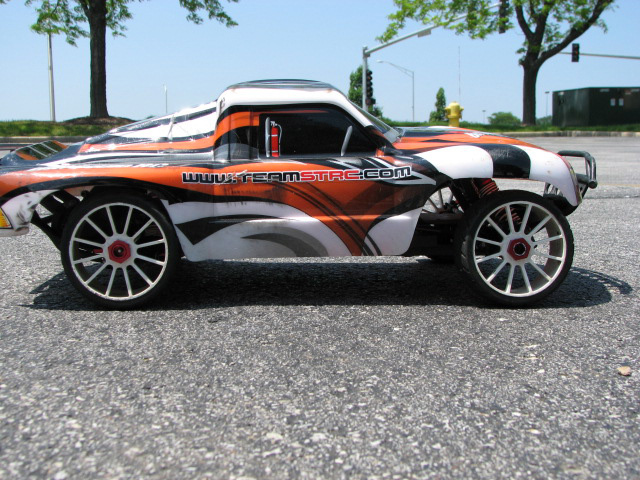 A while back, ST Racing Concepts released their LCG (Low Center of Gravity) kit for the 2WD Traxxas Slash. We got our hands on a kit and have been beating on it at all the local spots for a while now. Does the kit do what it says it will? Will it lower my Slash as well as breathe some new life into my truck? Lets find out…
From: ST Racing Concepts
Product Page: STRC Slash 2WD LCG Kit
What's in the box and what do you need:
In the kit you get several aluminum pieces, such as a chassis stiffener plate, skid plate, upper extension plate, and a few stand offs.
You will need a few Traxxas Rustler pieces to complete the full conversion. Those are: TRA3722A Rustler Lower Chassis, TRA3723A Rustler Upper Chassis, and a TRA3727A Battery Hold Down Plate. The full directions on how to build up the kit are on the STRC website located HERE.
Why do the conversion?
Our 2WD Slash, while it gets a lot of love and use around here, it does get a little old after a while. We don't race with it, so there are no rules we need to follow. We can do whatever we want to the truck. The LCG kit will try and ad some new life to that Slash by doing a few things. It lowers the center of gravity by dropping the battery over 2 inches. It lays the steering servo down because of the Rustlers stock servo setup and it has a slightly shorter wheelbase (10mm shorter) but it still uses the same body holes. The shorter wheel base and the lower CG can then make cornering much better as well as eliminate some of that Slash traction roll.
Build Comments:
Except for tracking down the Traxxas Rustler chassis, the entire build went pretty smooth. We finally snagged a Rustler chassis from Adam the Intern. He had one left over from one of his crazy custom chassis projects. (Thanks Adam!) We followed the directions on line, and everything went fine. There was nothing difficult or unexpected about the build.
Driving Impressions
Something I want to point out, most of the driving was done with on-road or off-road buggy wheels and tires. We recently put a 17mm hex conversion on the truck as well.
After Wrench got done with the build he was driving it around outside when I walked out to see how it was going. He hands me the transmitter and says 'try and roll it'. I take off onto the street full throttle and lean it into a tight turn. If I was driving a standard Slash it would probably still be rolling and flipping down the street at the time of this writing. To my amazement, the new LCG Slash dug in as hard as it could and then finally the rear tires broke loose allowing the vehicle to swing around just enough to stop from traction rolling and I came out of the turn up right and flying. Wow. I spent the next ten minutes cruising up and down the street sliding and cornering like like I was driving a F1 vehicle. Ok.. maybe that's a slight exaggeration but in comparison to what a Slash normally feels like.. this felt that much better.
A few days later it was off to hit the dirt! It had recently rained so it wasn't too dusty, but the top was pretty dry and loose. Once again the feel and driving brought a huge smile to my face. The LCG setup brought control and precision that I would only expect to see out of a 4WD vehicle on this track. I was taking corners like the vehicle was on rails, and when I wanted to, I had the rear end sliding around and the front still had enough control that I could put the car anywhere I wanted to be on the track. I was having some serious fun! Wrench and I traded the transmitter back and forth for a while just trying to pull off moves that only a skilled racer would be attempting, and we made it look easy. I was wide open throttle more often than I had ever been with a 2WD slash and I enjoyed every second of it.
In the air the truck jumped great. We were a little worried about how the new setup would change the characteristics, but again the new kit worked flawlessly.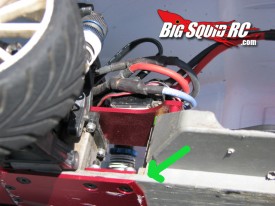 Final Thoughts:
Being so much lower, you are going to want to think twice about getting the really huge air you might normally do when bashing your Slash because you are going to bottom out a lot easier. There is what we are calling a 'pinch' spot where the upper and lower aluminum plates sandwich the plastic part of the chassis that has us a little concerned. Wrench and I both feel that a good slam, or a bad landing could put a lot of stress on this joint and cause you to crack the chassis. During our testing, we did not have any issues, but I think if the bottom plate could of extended a little farther, we would feel a little better about it. You can see this in one of the pictures here with the green arrow.
Over all, I think STRC did an amazing job with this LCG kit. The truck handles amazingly, it looks better, and has really brought some new life to our Slash. The kit price is less than $40 (not including the Traxxas Rustler parts you will need) and if you have a 2WD Slash that's been seeing a little more shelf time than normal, maybe this will bring the truck out of retirement for you.
Like with all of our stuff, if you see us at a bash, or out at the track, stop by and check out what we brought with! Don't forget to get some stickers from us!
Summary

| | |
| --- | --- |
| Time to Bash | 7/10 There is a good amount of wrenching needed, plus you will need to find some additional parts. |
| Workability | 8/10 The build wasn't difficult, and the truck is still easily maintainable after the conversion. |
| Car Show Rating | 9/10 Looks good, and will turn some heads when you roll up next to another Slash. |
| Bash-A-Bility | 9/10We haven't busted anything yet, but we do feel that pinch point may be a factor down the road. |
| Big Squid Rating | 9/10 Tentacles…If you have a Slash collecting dust, or you are looking for a totally different feel for your truck, the STRC 2WD Slash LCG kit is for you. |