ST RC lightens up your Slash's or Blitz's loads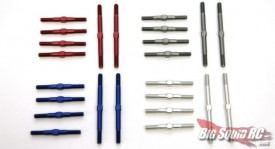 If you're looking for ways to get an edge on your opponents in some short course racing action, then you might want to turn your gaze to these new turnbuckle sets for the HPI Blitz and Traxxas Slash 2wd from ST Racing Concepts.  The CNC Machined Pro-Light Turnbuckle Kits are made out of lightweight 7075-T6 aluminum.  A complete set of them will shave about eight grams from your truck's weight.  They are lighter than a typical set of titanium turnbuckles.  The turnbuckles will also be available as pairs if you don't want to upgrade your entire truck in one shot.  You can expect them in the usual anodized colors for which ST RC is known.
The complete kits will be retailing for $28.99, while the pairs will be going for $9.99.  They will be available directly from the ST RC web site soon.