One of the biggest toy releases of 2015 involved the new Star Wars Force Awakens line up that hit shelves on 'Force Friday' September 4th. Among the new toys was the BB-8 Droid by Sphero. The most anticipated toy sold out quickly around the globe. Lots of people want to know if it's worth trying to hunt one down. Is the BB-8 Droid worth $149? Does the toy live up to the hype? Keep reading to find out.
From: Sphero
Direct Link: Sphero BB-8
Specs:
Controller: iPhone or Android Phone and APP (via Bluetooth)
Top Speed: 4.5 mph (7.24kph)
Charging: Inductive Charging
Weight: 7.0 ounces (200g)
Height: 4.4 Inches (11.4cm)
Width: 2.8 Inches (7.3cm)
Charging: The inductive charging works great. Being able to just pick up the BB-8 when we were done using it, and set it on the charger is a real nice feature. It also allows younger children to easily keep it charged without them fumbling with plugs and cords. I have tried in the past to use and covert as many things in my house to use inductive charging, and would like to see this used more often in the hobby grade RC world!
Time to Play: Set up time was minimal. Download the app, put the BB-8 on the charger, and when it's done, the binding of the droid and the phone was very simple. To fully charge the BB-8 took about 3 hours. Run time is close to an hour, but rarely have we run it till the batteries were dead. Normally we were ready to 'put it away' after 20-30 minutes.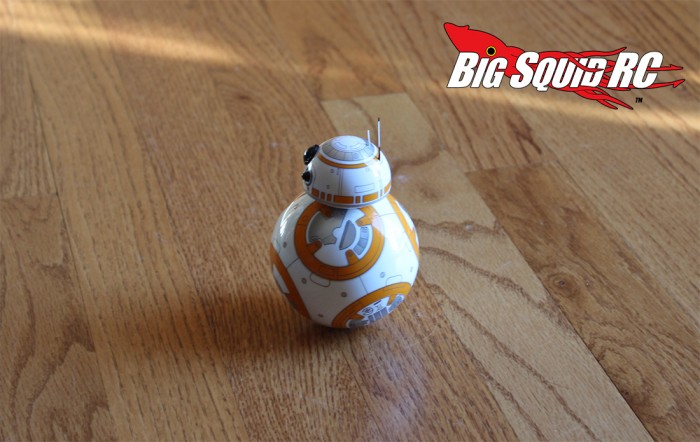 Bashing: Playing with the BB-8 is pretty fun. It's an amazing piece of technology, and there isn't a person who see's it in action who does not think the same thing. To watch it roll around the rooms while that head stays on top is a fantastic sight. The droid is relatively easy to steer around the room with the app. You can chance/pivot direction and roll forward and backward. Forward is always the direction the head is facing. We have run it into walls, furniture, people, and everything else in the office and house without a scratch or a dent. The BB-8 is VERY durable, so you won't have to worry about breaking anything. The body itself is very tough, and while we expected to break the head or the little fake plastic antenna on top, we have not. This droid can take a serious beating.
While we all like playing with the BB-8, our dog is it's biggest fan. She loves chasing it around, barking at it, pushing it, and getting chased by it. There is nobody more excited to see the little droid spring into action. While it's a great toy, it does get a little old after a while. Maybe it's from having literally dozens of other RC related vehicles around, but a person can only drive a ball around the room for so long.
The BB-8 works fine on short carpet, hardwood floors, and even pavement. He does not work in grass, and will struggle in long carpet. We don't really recommend running him on pavement too much as there is probably a much larger chance of scratching him up.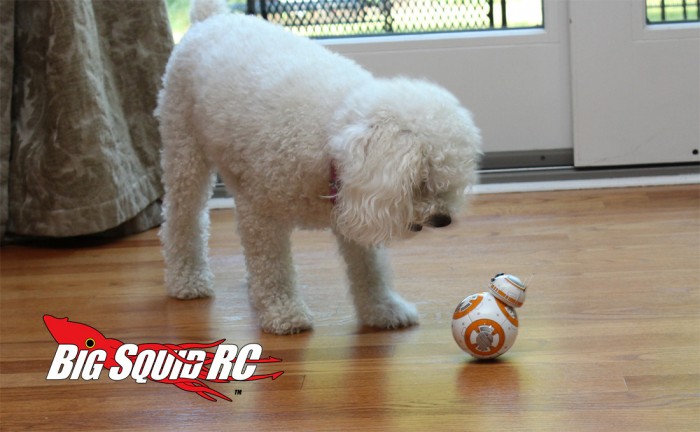 Modes: There are several modes that the BB-8 comes equipped with. The standard is Drive mode, where you have complete control over BB-8, where he goes and what he does. At any time you can say "OK BB-8" and he will listen. That's right, there are several voice commands you can do such as 'Go Explore' or 'Look Around'.
Using a type of 'Augmented Reality' you can record a Hologram message, and then play it back as if the BB-8 is sending the message. You can only view the hologram through your phone. It works ok, but didn't really capture our attention.
The last mode is Patrol Mode. While in Patrol, the BB-8 will drive around your room unassisted by you. It will attempt to map out obstetrical and walls, and try to learn about it's surroundings. During this mode the little droid will run into a LOT of stuff. He does not have a camera, so it learns by hitting things, remembering where they are, and then avoiding those areas later. This does work ok, and the longer he is in patrol mode, the better he will do, but it's nothing quick. Don't expect the BB-8 to be blazing around your room in an hour without hitting stuff.
Overall: The BB-8 by Sphero is a fun toy, and an amazing piece of technology. While he may only keep your attention for 20 minutes, your pet may think it's the greatest thing ever. If you are a big Star Wars fan, or a fan of technology, we wish you luck finding one for the Christmas season. If you aren't sure if you want to spend $149 on a toy you may not be playing with in a few months, go play with or borrow someone else's for a bit, and get it out of your system.
Sphero has had a great line of previous RC toy hits like the original Sphero ball as well as the Ollie. They have created some great programs to help children learn and get into the fun of early robotics, programming and rc. We commend them for their efforts with bringing technology to the kids.