STL RC Drag Racing Club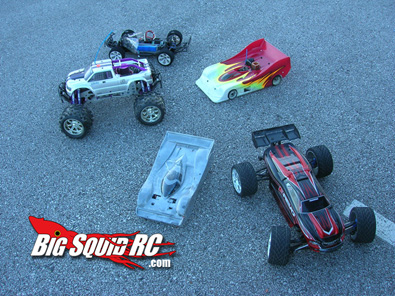 Drag racing and high speed runs keep getting more popular all across the country. Yesterday I was lucky enough to meet up with a group in the St Louis Missouri area and do some high speed running. The STL RC Drag Racing Club meets every Sunday where they get their cars out and have a great time in a very casual atmosphere.
St. Louis Street Racing gallery
The STL club was more about top speed than about drag racing, although they should have their actual drag racing timing system ready in the next week or so. Yesterday we were using about 300 feet to get up to top speed, with a guy at the end holding a radar gun. Cars ranged from 10th scale touring, to 18th scale touring, 8th scale on and off roaders, and monster trucks. Top speeds ranged from around 30, all the way up to 96 mph, but the main thing was that everyone was hanging out, smiling, and enjoying their time with friends and their insanely overpowered rc cars. There were about 40 guys in attendance yesterday, but I'm told the club is new, and keeps getting bigger every week.
If you are around the St Louis metro area, throw some crazy power into your car and join in the fun!
Check the second gallery of shots!
St. Louis Street Racing gallery two