STRC Axial Wraith Hop-Ups – Part 2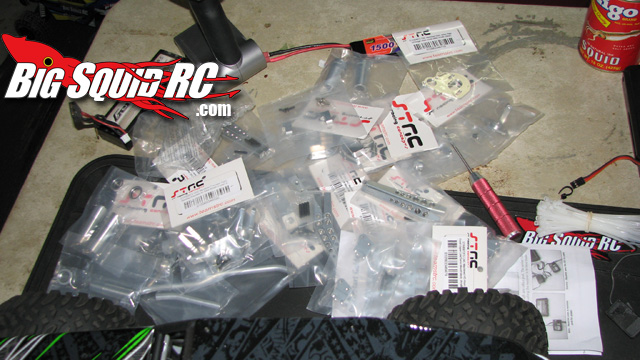 We recently picked up a bunch of ST Racing Concepts hop-ups for the Axial Wraith. We will be doing several articles on all of these parts. You can read part 1 here.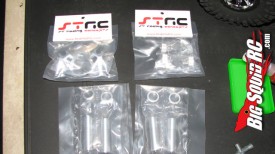 This time around we are installing the aluminum shock caps, aluminum shock bodies and spring collars, and steering knuckles. Keep reading to see the pictures and read about the install.
So people are not surprised when the parts show up, most of the STRC products do not come with printed instructions. If you have trouble, they almost always have a step-by step version online you can follow on their web page, and this can make it really easy.
First up we removed the front wheels. This let us get to the stock shocks easier as well as free up the steering knuckles.
You will need to use the stock shock shaft so don't go tossing them in the box yet. The new STRC bodies are threaded pretty far down giving you a good amount of adjust ability. Everything moved over smoothly to the new STRC shock bodies, and they really look good on the crawler! The rear shocks come off pretty easy without having to take anything else off the truck. They also go back on without too much effort after getting the STRC bodies swapped.
Next up were the steering knuckles. Want to add some major durability, and loose that flex from the stock knuckles? These STRC aluminum versions aren't going to flex under any load, and I think the only way you would break one is if Godzilla was gnawing on your cralwer! They are identical in size, so they are just a direct swap. Once the tires are off, there are just a few screws keeping the old ones on.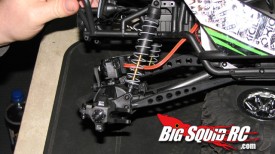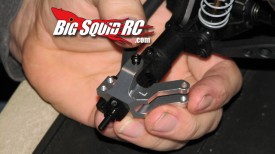 The new ones really stand out. They feel smooth, and eliminate any flex as well as the possibility of snapping one under the power of a high-torque servo.
Once we were all done, we put the tires back on, and were ready for action. The whole process was well under a hour. When it comes to shocks, you want to take your time and get them filled properly. The knuckles were quick to change out. We can't wait to hit the rocks and turn some heads!
Come back soon for some additional STRC Axial Wraith part installs, and then watch for our final overall review.
Make sure to visit the ST Racing Concepts Webpage for specific information and details or ordering.