STRC prepping XXX-SCT hop-ups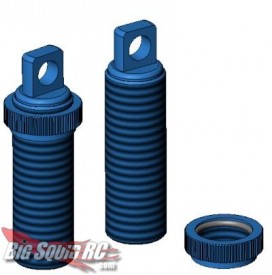 The Losi XXX-SCT may be new to the scene but ST Racing Concepts is already on their way to producing big time hop-ups for it.  They sent along a bunch of CAD renderings for us to gaze at while we wait for them to hit the market around the third week of this month.  If it's a part on the XXX-SCT, STRC is making an aluminum or carbon fiber piece to replace it.  You can expect hub carriers front and rear, steering knuckles, a steering bellcrank, bulkheads, a few carbon fiber braces and straps. plus a ton more.  Probably the trickest looking piece that they are preparing is the threaded aluminum shock bodies pictured at right.
The guys didn't offer up any details on pricing at this point, but it's probably safe to assume that they'll fall in line with the aluminum hop-ups that STRC offers for the other short course trucks out there.  When we get more info it'll be passed on to you.  Check out some of the renderings in the gallery below then hit up the ST Racing Concepts web site just for fun.