Street Car Chaos – RC Drag Racing Event!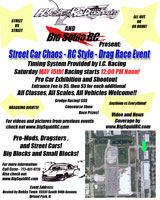 Holeshot RC Drag Racing, along with Big Squid RC and Hobby Town of Orland Park IL. present Street Car Chaos – RC Drag Racing in the Hobby Town parking lot in Orland Park IL.
These street car events that Holeshot RC have been putting on are pretty much the events that brought RC Drag Racing to the Chicago area. Geno does a great job of bringing the people in. If you are looking to witness some of the finest trash talking, rc drag racing, anything goes event, this is the place to be! This is the first race in this lot, and I'm not 100% sure if it will be able to handle the true RC dragsters, but the street cars and trucks will be out in force! The event is Saturday May 15th, 2010.
If you are in the area, make sure to stop out at the Big Squid RC tent to check out the new King Squid II and pick up some stickers!
Click the flyer or the address and details.