Stuck in the snow today?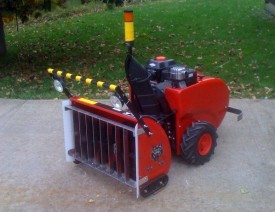 As this winter storm of epic proportions keeps moving across the states, I'm sure some of you are stuck indoors for the time being.  So put that time to good use and go build yourself an R/C snow blower like this guy did.  Check out the RoBo Blower web site for all the stats and a ton more photos of this man-eating monster looking contraption.  Also check out the video below to see it in action  This is definitely something we could use around the Big Squid offices, it just needs a FPV system mounted to it so all our plowing could be done from the comfort of our heated massage leather office chairs.
Tip o' the hat to Michael at About R/C Vehicles and Hack N Mod for the find.