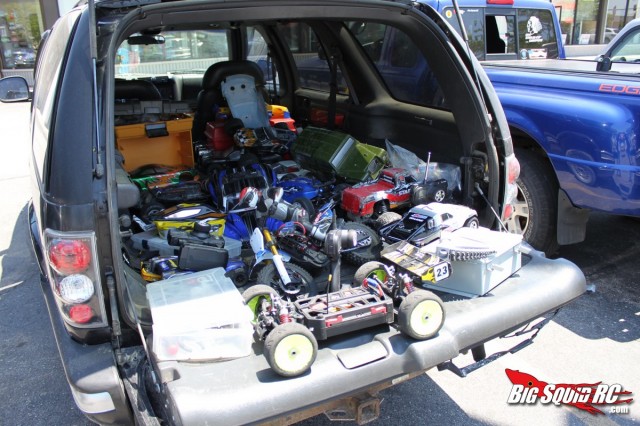 Well, the Summer Kick Off Bash turned out to be a real blast! We had people from several states show up and partake in some serious bashing fun! The events we ended up doing were the Obstacle Course that ended by slamming into a ton of old transmitters as the finish line, the Sumo event, Demolition Derby, the Shopping Cart Slam, and finally ended with some all out ramp and big air goodness! Below are a bunch of pictures, and hopefully a video to be edited soon.
I'd like to thank Pro-Line
and Hobbico for their amazing support of product for the give-aways! We had over 50 items on our prize table, and everyone went home with something.
Keep reading for a TON more pics!

I'd also like to thank the Big Squid Crew for helping out throughout the day. Bill 'Wrench, Tim 'Hollywood' Mohr, Adam the Intern, Craig the Crazy Ramp Builder, 'Handy' Manny, and 3DBill. We couldn't of done the event without everyone helping out.
Special thanks to Steve Noel, for letting us use the Hobby Town Orland Park store and parking lot to host the event.
And finally thanks to all the bashers who endured the heat and wind for the day, and helped us enjoy a awesome day of bashing.
Not only did this cake look amazing, it tasted awesome! My mouth is watering just thinking about the piece I had! Thanks to Manny and his Wife for creating it!
We had a ton of give-aways! Everyone wins!
Thanks again to everyone that helped make this a awesome event! hope to see you at the next one!