Tactic RC TTX240 2.4GHz Transmitter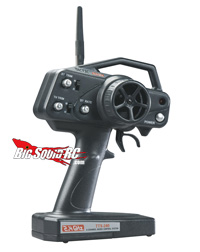 Wow, talk about a bargain, the new 2.4 GHz Transmitter from Tactic RC has a retail price of only $99, and that's with a receiver! If you have been looking to ditch the FM and waiting for your 'clip' to come back, this might be the jump for you! Here's the press release:
Spread spectrum systems are all the rage – and Tactic is proud to offer a 2.4GHz pistol-grip radio for cars, trucks and boats that's tops in simplicity, durability and affordability! Cutting-edge electronics make the TTX240 virtually "bulletproof" against interference and glitching, yet, priced to fit within almost any modeler's budget. Spread spectrum technology eliminates crystals, frequency pins and waiting for a channel to become available. The super-small receiver locks onto the transmitter's unique signal and won't respond to signals from any other source.
Compatible with a wide range of digital and analog servos, the Tactic TTX240 works well with both nitro and electric models. Binding the compact, quarter-ounce RX324 receiver to the transmitter is virtually as simple as turning them on. An internal receiver antenna makes old-fashioned antennas obsolete.

Available with all these great features:
• 2.4GHz transmitter
• 2.4GHz "binding" receiver
• Built-in fail safe
• Steering and throttle trims
• Steering and throttle servo reversing
• Steering rate adjustment
• Power LED
• 1-year limited warranty
TACJ0245 TTX240 2.4GHz 2-Channel Radio Retail:$99.99 AVAILABLE: Late April
Tactic RC