Tamiya Formula 1 Ferrari F2012 – F104 Kit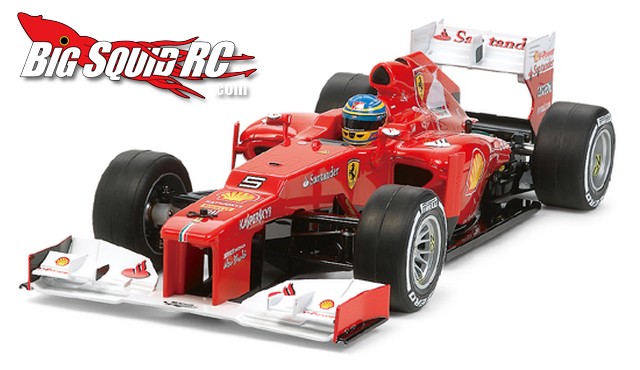 So what if Alonzo came up a little short in the title chase last year. So what if the hardcore Ferrari fans (tifosi) deemed the stepped nosed F2012 one of the ugliest F1 cars of all time.
It's not often that you can get your hands on such a wonderfully done scale replica of last years Ferrari F1 car, complete with Alonzo behind the wheel. Thanks to the good folks at Tamiya, their new Ferrari F2012 F1 car will not only be amazingly fast at the local bash spot, but it will make you stop and marvel at its striking looks every time you walk by it in the garage. I am personally a huge Ferrari fan (so is Cubby), so I can see a couple of these sitting in the BigSquidRC offices Really soon!
* Scale: 1/10th
* Construction type: kit
* Terrain use: on-road
* Drive-train: 2WD RWD
* Drive type: pinion to spur gear
* Drive line: solid axle
* Differential type: ball pressure plate
* Suspension: independent front/solid axle rear
* Steering mechanism: direct servo
* Shock damper: friction damper, plastic bodies
* Tire type: rubber, slick tread
* Body material: Clear Polycarbonate
* Motor type: 540-brushed type
* Bearings: metal bushings
* Chassis material: FRP
* Adjustable camber: yes
* Adjustable toe angles: front only
* Adjustable ride height: yes
* Adjustable gear ratio: yes
* Fixed: wheelbase, width, and shock angle
* Requires: 7.2 battery, charger, paint, esc, radio gear, servo
* Part ##58559
This Ferrari only packs an MSRP of $320, and its expected release date is mid-February. For more information, hit THIS link for the official Tamiya USA website.
Looking for more Tamiya news on BigSquidRC? Check it out right HERE.