Tamiya revises the TRF801XT into a total performance package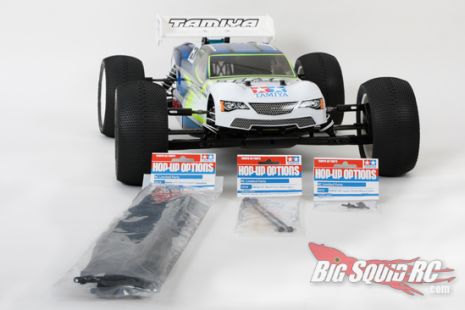 The Tamiya TRF801XT is, by all accounts, a fine model automobile.  Apparently Tamiya wasn't happy enough with it though.  So they went back to the drawing board and then to the track, then back to the drawing board, then the track again, and so on and so forth until they had a truck that performed better than their previous attempt.  Now all of us get to enjoy the fruits of their labor.  The TRF801XT Performance Package Version is a complete kit featuring revised suspension with shorter A-arms making for narrower truck that improves handling and responsiveness.  The width of the truggy has been reduced from 428mm down to a slim 422mm.  The revised kit also includes shorter universal drive shafts and the aftermarket HD Upper Shock Mounts which allow for quicker and easier shock angle adjustments.
If you already own an old school TRF801XT don't feel bad, the parts included in the Performance Package Version are available separately.  Just bolt them on and you'll be as cool as the other kids on the track.
The MSRP for the TRF801XT Performance Package Version is $1,044.00, your local hobby shop's prices are sure to vary.  Check out the Tamiya America web site for more info, pictures, and a peek at the manual.