Tamiya Toyota 4×4 Bruiser on the Comeback Trail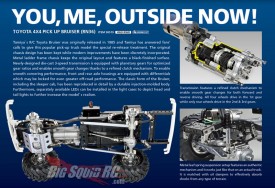 If you didn't get to experience the Tamiya Bruiser, well it looks like you are about to get another chance. The original Tamiya Toyota Bruiser was released in 1985, and die-hard fans have been begging for a re-release to go along with the treatment a lot of the other Tamiya vehicles are getting.
The original chassis design is kept with some new modern improvements. The metal ladder frame has a black finish, while the newly designed 3 speed transmission is equipped with planetary gears for smooth performance. There is also going to be a LED light kit available for head and tail lights.
I think I know a few people that will be drooling over this.
Details should be up soon on the Tamiya USA website.