Tattu 2S1P 6200mAh 80C Hardcase Lipo Battery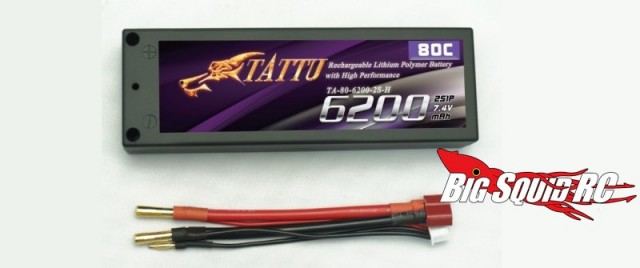 Just a few years ago new Lipo companies were popping up all the time, since then the Lipo frenzy has died down a notch. Lipo is still hot of course and one of the latest companies to arrive on the scene is Tattu. Tattu is focused on putting out high quality packs that will not only make your bash machine faster, but also be long lasting. Pictured above is their new 2S 6200 hardcase pack which fits in a vast array of bash vehicles.
* Max continuous discharge- 80C/496 amps
* Size- 138x47x25mm
* Gross weight- 397 grams
* Balance plug- JST-XH-3P
* Wire size- 12AWG
* Plug type- 4.0mm Banana Plug to Deans
The part number for the Tattu 2S 6200 is #TA-80-6200-2S-H and they are available right now. Hit up This Link for more information over on the official Tattu website.
Click Here for more Lipo battery news on BigSquidRC.