Team Associated High-Voltage MG Servo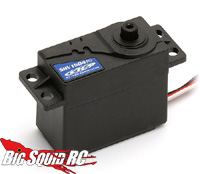 Team Associated let their new XP Series High-Voltage servo out of the stable today! Two versions hit the streets, SHV1504MG and the SHV1504. The RTR SC10 comes equipped with the Metal Gear version (SHV1504MG) and now it can be had for other applications. These servos are capable of handling up to 7.4v and up to 54 oz-in and speeds up to 0.15.
Drop by Team Associated for another look and be sure to check your local shop when they hit the shelves later this month.