Team Associated LRP Crawler Brushless Combo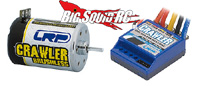 Team Associated has released their new Combo designed just for crawling! This combo is a genius when it comes to low speed drivability, super sensitive starting, and accelerating!
The hand wound Crawler 21.5 Brushless motoe features sensor/sensorless operation and neodymium magnets (sintered). Auto-Hill brake, no reverse delay and 4 unique crawler throttle profiles round out the Brushless Reverse ESC.
Available in April 2009 and should be a must for the next competition!
Stop by Team Associated for more information.