Team Associated MS16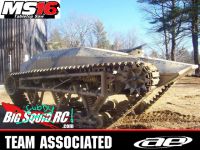 The crew from the Discovery Channel tv show Howe & Howe Tech are teaming up with Team Associated to put their revolutionary unmanned tank, the MS1 "Ripsaw" into the hands of us r/c hobbyists. Dubbed the Team Associated MS16 "Tabletop Saw", this new r/c tank will feature AE's new XP4-SS dual stick, 4 channel radio system, a pair of Reedy 4800kV brushless motors and specialized ESC, and will come packed with a Reedy 3S LiPo battery and charger. Early testing of the prototypes showed the MS16 reaching top speeds of nearly 50 mph.
The full-scale MS1 made headlines a few years ago for becoming the world's fastest tracked vehicle and was even given the Popular Science Inventors award for it's revolutionary design.
Unfortunately this new tank doesn't appear to conform to ROAR's rules on their new tank class, we'll have to see if somebody releases some aftermarket bodies to bring it into compliance. It could be a dominator in the class.
For MSRP and release date check out Team Associated's web site.