Team Associated SC10 Carbon Fiber Battery Strap!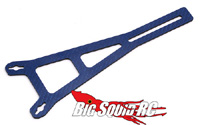 We screamed and they listened. Team Associated will be releasing a Factory Team Battery Strap in beautiful Carbon Fiber (first 1000 will be blue) that truly allows battery placement. If you're like me and have modified your battery hold down for easier adjustment or just built a replacement this is for you! Designed to reduce the interference with the battery leads and retains the stock quick release features these should be on the streets this month!
Stop by Team Associated and check it out and dive into your local shop to grab yours!