Team Associated SC10 Factory Team Kit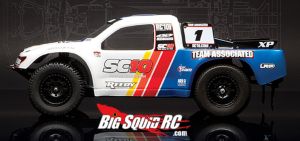 The guys in blue have taken their popular SC10 and given it the Factory Team treatment finally. Team Associated's new SC10 Factory Team kit has all the typical factory team stuff: blue aluminum and titanium all over, carbon fiber pieces and parts, hard-anodized shocks, after-market tires, and a bunch more. And of course it's in kit form for all of you that like to build your cars rather than just unwrap them.
You'll need to provide all the electronics plus a battery and charger. All this fancy stuff doesn't come cheap though, MSRP for the SC10 Factory Team kit is $409.99. It should be on store shelves some time in June. Click through to Team Associated's site for more info.