Team Associated SC18 – 1:18 Short Course Racing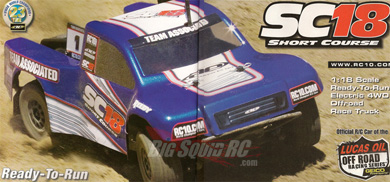 Well, the hot news of the moment is the new Team Associated SC18! Well, at least the ad for the new SC18! We haven't received any official press release on the vehicle yet, but we do have the ad! I'm sure we'll have tons of pictures from iHobby Expo this week! So don't forget to check all of our iHobby Coverage!
Here are a few more pics from the ad.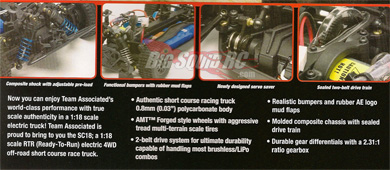 The basic info:
1:18 Scale RTR, 4WD, functional bumpers with rubber mudflaps, 2 belt drive train, 370 motor, all ball bearings, battery and charger included.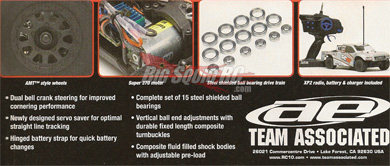 We'll have to wait and see if the brushless systems rip those belts up.
Check out Team Associated for more information later in the week.