Team Checkpoint 14.8v 5400mAH 4S LiPo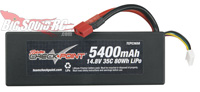 Well, for all those looking for a little extra boost, it sounds like Team Checkpoint has the power you need. They are gearing their latest 14.8v 5400mAH 4S packs towards the buggy/truggy folks. The 35C matched packs are shipping in February.
Check out the Team Checkpoint web site for more info!