Team CheckPoint 3.7v 5000mAh 40C LiPo Packs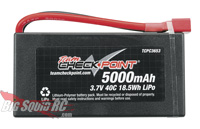 For all those Oval and World GT Racing Fans looking to jump to LiPo, Team Checkpoint has you covered with their new 3.7v 5000mAh 40C packs. These 1s (1-cell) packs are for those of you running 4-cell NiMH packs. They are light weight, durable, ROAR approved, and come with Deans connector installed.
Check out the Team Checkpoint web site for more info!