Team Checkpoint Wins at Chitown Shootout
News from Team Checkpoint is that they were adding a few wins last week right here in Big Squid RC's own backyard. We love to test over at Leisure Hours, the place rocks! Anyway, here's the news from them: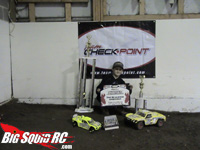 This past weekend saw another Team Checkpoint Chitown Shootout put in the record books…and it didn't disappoint. As always, the race was held at the world class Leisure Hours Raceway facility in Joliet, IL. When the racers walked in the door, they were treated to a supercross-like track that provided some awesome racing all weekend.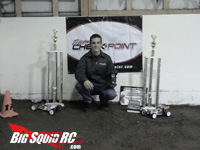 With over 160 entries, the racing was very competitive and included some of the fastest racers in the Midwest. During qualifying, Team Checkpoint drivers Steven Hartson, Sarah Ernst, Chris Arnold, Scott Cramer, Jimbo Kvidera and Max Cramer were super fast and sitting comfortably in the A mains.

When the A mains got underway, all of the Team Checkpoint drivers had excellent runs. Coming out on top in the Sportsman class was eight-year-old Max Cramer (TQ). But the star of the event was the California kid, Steven Hartson. During qualifying, Hartson looked impressive by taking the TQ in Mod Buggy and qualifying 2nd in Mod 4WD. In the main event, however, Hartson put on a virtual driving clinic! When the dust settled, Hartson put a lap on the field in each of his A mains!
When asked about the event, Hartson had this to say…"This was my first time racing in the Midwest on a track surface like this…I've never seen so much traction…The tracks out in California have nothing on this one. This is one of the coolest layouts I have raced on…I can't wait until next year!"
All Team Checkpoint drivers used the Futaba FASST system and Futaba servos in their vehicles.