Team Durango DEX408 v2 Gets Basher Approved Status!
We recently stopped by the Hobbico offices where we handed off the latest Basher Approved Award for the Team Durango DEX408v2 Buggy. Scott Cramer did the honors of accepting the award for the Durango folks while we were in town.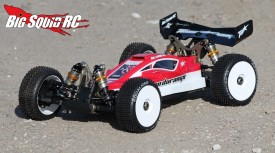 The DEX408v2 has been hard to pry from Cubby's hands. When he called it one of the best jumping vehicles he has ever driven, he wasn't kidding! The Durango kit has been his go to buggy for a while now, and we decided any vehicle that can have that sort of effect on Cubby as well as the rest of us here, must be special!
Curious what it takes to get a Basher Approved Award? You can read all about them Right Here and also see who else has won the prestigious award.
Want to know more about the Durango DEX408v2? You can read our review at This Link.
Congrats to Team Durango, keep up the great work!
It's Friday! Happy 4th of July everyone! Check out the BSRC Mystery Link.