Team EDS Combo Quick Drive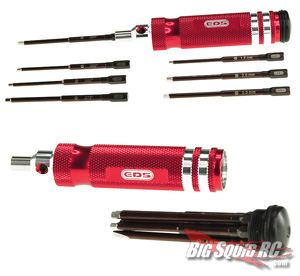 When a company that has already earned one Basher Approved award steps up with something new, we definately take notice.  EDS Racing has a new tool up their sleeve with their new Combo Quick Drive.  As the name suggests, it's a new combination allen driver that includes seven tips that store neatly in the handle. It's available in metric, SAE, or a combination of both.
The Combo Quick Drive is available now in Europe through Schumacher for about £30. Unfortunately it's not listed on the EDS website yet, so no word on cost or distribution here in the good ol' US of A.  But I would venture a guess at somewhere around $50.