Team Losi Mini 8ight RTR Review
Losi Mini 8ight RTR Review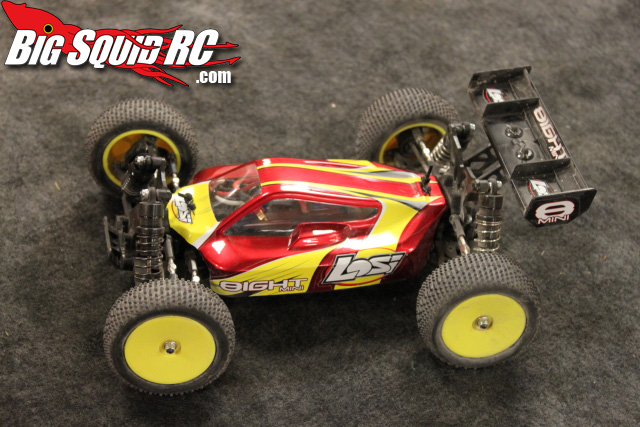 Dial King Squids phone,ring.. ring.. ring.. ring ring.. "This is Brian" "It's 3DBill I'm at the field.. to windy to fly that tiny review plane." Brian-"Hey I was gonna call you.. um you wanna review the Losi Mini 8ight?" Me – "Sure why not.." didnt have to twist my arm for that one. I've had the Losi Mini 8 since the first day it showed up at the shop! So how did it go? Let's find out…

From: Losi
Direct Link: Losi Mini 8ight
Review by: 3DBill
Pics by: 3DBill, Brian, Cubby
Specs-
Completion Level: Ready-To-Run
Recommended Environment: Off-Road
Drivetrain: 4WD
Vehicle Type: Buggy
Size/Scale: 1/14
Length: 11.49 in (292mm)
Width: 8.03 in (204mm)
Height: 4.33 in (110mm)
Wheelbase: 7.32 in (186mm)
Weight: 2.15 lb (0.98 kg)
Chassis: 2.5mm anodized aluminum
Tire Type: Kingpin Buggy
Motor or Engine: 4500Kv brushless motor
Speed Control: Brushless
Radio: 2.4GHz DSM Technology
Batteries: 7.2V NiMH (included, LiPo option available)
Charger: Included (not sold separately)
Shock Type: Aluminum, threaded, oil-filled
Ball Bearings: Complete
Minimum Age Recommendation: 14 years
Street Price: $249
Primary Competition– Nothing directly without bumping to 1/16th scale.
What's In The Box: Everything you need to run the car
Build Quality: The first night I had it one of the rear diff cups came loose,nothing broke. Took it apart added loc tite and it was back to bashing inside at 3am with it. Other than that it has been good out of the box. Drive train etc has been holding up to 3s lipos fine so far.
Test Drivers: 3DBill,Steve The Owner of the local hobbytown USA, Wrench and Brian
Test Venues: Raceworld Raceway, inside the house, the local shop, streets, and parking lots.
Set-up Notes: I bound it to my DX3A, which makes dialing in the car and overall driving a bit better but the the stock radio is ok. 2s Lipo gives it a nice increase in runtime and performance,3s lipos make it almost too fast for a 1/14th scale car, but it's cool on 3s. Adjusted the toe in a little.
Turning: Like the 8th scale 8ight this car has lots of steering,stock servo has decent torque but at high speed you have to work to keep it straight due to poor centering and the car wanders regardless of toe in settings on the car. It handled the Raceworld track and turns with no problems.
Jumping: Like the 8th scale 8ight it jumps well,you can get it out of shape and still recover. It likes to land flat,being a mini there isn't a lot of suspension travel but it will land well from jumps relative to its size. Adjusting attitude in the air is easy with the shaft drive and quick accelration to bring the nose up or tapping the brake to bring the nose down. Really, I had a brushless 8ight for a while and this is a smaller version of the 8th scale on steroids when you run it with lipos.
At the Raceworld track we were managing to land the quad jump (double double ~40 feet) and not even the nitro 1/8th scale buggies were able to do that. On 3S the acceleration was insane, and we were really able to make some huge jumps.
Bumps/Whoops: Do to its smaller size smaller ruts,rocks etc that a larger car will absorb with the suspension and keep on floating over the mini eight will get upset and bounce and dart around going over. You really have to be quick to keep the car from darting and chassis slapping over technical type stuff but it can be done. Usually even if the car flips at speed it will tumble bounce etc and like any other car turning the wheels and adding power as it rotates slower can put it back on its wheels and you can keep going.
On-Road: This is where you can lay down a lot of power and with 2s lipos it will lift the front end and it hooks pretty good. On 3s you have to manage the power better and fight for traction but this is where a basher will have a lot of fun with this car. Punching it on 3s at half throttle will still pull the front end up and over.
Suspension: Again this is a mini car and the suspension is scaled down. The suspension works well FOR ITS SIZE, If I ran the car on a track suited to minis or 10th scale stuff I'd work on the suspension to dial it in but it works well out of the box and no amount of tuning to the suspension will make it absorb big hits much better off large jumps. On and off power the suspension works and it steers accordingly. If anything I would go to thicker oil for bashing, especially if you plan on getting big air off ramps and jumps, but out of the box the suspension works well and is a happy medium with spring rates and dampening that most will find reasonable for on and off road driving.
Tires: The stock tires work well. On road or off road they have good grip for knobby tires and so far have worn very little surprisingly even with several packs run through the car with 3s power.
Radio: Its a rtr and comes with a rtr radio(not a fan of rtr radios). The radio works fine, it will drive the car but I would of preferred a BND option for the car and save 20 or 30 bucks for something I don't need. It has the standard adjustments a radio should have. If you have a higher end spektrum surface radio bind it to the car and dial it in,it does help the car become even better but its still fun with the provided radio out of the box.
Broken Parts: We have popped off a steering ball end and just popped it back on, during some of the serious durability testing (jumping 15 plus feet in the air to pavement) after tons of beating and bashing we broke a shock spring retainer.
Best Mod Under $5: A lipo strap to hold the battery in. Tiny battery clips are easy to lose and you'll easily cut the speed of swapping packs out in half, and be able to run taller packs.
Best Mod Over $5: A good charger,a ac/dc charger with built in power supply that will charge all the popular chemistrys of packs and balance charge can be had for $50-$100. I'd also pick up a couple lipos for it.. 2s is a nice boost in performance and 3s turns the Losi Mini 8ight into a micro missile!
Misc Notes: I really never had much interest in the mini stuff.. cars or aircraft. I went to the local shop to pick up some build supplys for planes and the car was on the shelf and they just got them in that day.. I told the shop owner this is a impulse buy, I usually wont do that but after seeing the car first hand and remembering how much fun I had with the 8th scale version I said what the heck. This car has been a blast, it surprises a lot of people with how fast it is and the amount of power it has on 3s! Its not bad on the stock nimh pack but 2s or 3s packs for a car this size are relativly inexpensive and really bring the car to life for a basher.
Brian's additional comments: When Wrench and I first saw the vehicle running on pavement, we were pretty impressed with the speeds and driving out of the box. When we got it to the track, it was a complete blast to drive around. When we were nailing that quad jump, WOW! That's also when we started testing the durability. We ran several packs at the track, and probably 30% of the time we'd over shoot or undershoot the quad causing a pretty serious crash. Sometimes cartwheeling down the track into the wall, pipes, other cars, you name it, we hit it. We then started jumping it off the driver stand to pavement. After several very hard slams, Wench grabbed a ladder and climbs up on the roof of the hobby shop where we jumped it several times there. Finally we broke the spring retainer. We had fun listening to the guys on the stand driving 1/10th and 1/8th scale vehicles say "aww man that mini is gonna lap me again!"
Cubby's additional comments: I recently got to see one in action (I didn't go testing with the other guys) but the one I saw, after only 30 seconds of running, hit the pipe at the indoor track and busted. So I'm not sure if the guys got lucky, and had the best one on the planet after hearing about how the beat it up so good, or if the guy I saw driving was un-lucky and got the one in a million perfect hit and broke.
(Mini Eight. Or Mini Eight-'ight.. lol)
---
As with all of our stuff, if you see us at a bash, stop by and check out the vehicles we have with us. We may let you take a test drive, and at the very least get you some stickers!
SUMMARY
Time To Bash – 7.0/10 – Its comes with a wall charger(AKA Wall WART) a better charger should be first on the upgrade list
Workability – 8.0/10 – Really nothing seemed like a pain to get to. The layout was ok for having so much vehicle squished into a 1/4 scale.
Car Show Rating – 8.5/10 – Not bad, with scale looks being the current trend, this falls a little short.
Bash-A-Bility – 9.0/10 – Maybe we had the superman version, but our test vehicle really took a beating.
Fun Factor – 10/10 – Throw a 3s pack in it and hang on tight!
Handling – 9.0/10 – The only reason it doesnt get a 10 here is because its a mini.. it handles very well but being tiny it gets upset easy on ruts etc that larger 10th or 8th scale buggies dont skip a beat to.
Power- 8.0/10 – Out of the box it's a 8. With a optional 2s lipo it would be 9, and on on 3s its a 10/10
Value- 8.0/10 – As well as the car drives and performs the stock radio, battery pack and charger keep it at a 8.
Big Squid Rating – 8.4/10 – Tentacles.. It's a fun and fast buggy. It controls a lot like it's big brother, and can be a blast to drive at the track or on the street.
Video of the beating coming soon!