Team Novak brings the news!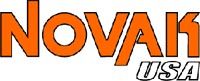 I was pleased and surprised to find four new press releases in my mail from Team Novak recently. I haven't heard from them in a while, and I'd like to think that more and more companies are taking notice to the growth BigSquidRC is having.
I have posted all four full press releases in the NEW Product Forum. They cover the new Novak Velociti Light brushless motors, the Crawler brushless motor, the SS21.5 Pro Brushless Motor and the 5-Amp Universal BEC. For more information on all these check out the NEW Product Forum or the official Team Novak site.
Welcome Team Novak! Glad you could join the party!