Team Orion Advantage IQ605 Charger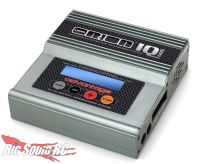 The crew at Team Orion is ready to present to you their brand new Advantage IQ605 Battery Management System.  The IQ605 is an AC/DC charger that can pump the juice into all the various acronymed batteries like LiPo, LiFe, NiMH, and NiCd, and even some non-acronymed batteries like lead-acid.  Other features include charge rates of up to 5A, discharge up to 1A, and an integrated balancer for up to 6S LiPos/LiFes.  It also works with the optional USB Data Link software so you can keep track of your batteries charge and discharge curves to help you gauge performance over the life of your battery.
Sorry, no price or ship date is given, but for a bit more detail check out the Team Orion web site.