Team Orion's New Battery Safe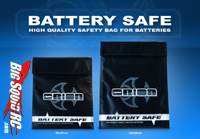 From Team Orion comes their new Battery Safe! Designed to ensure maximum safety without the boring old plain looking battery bags.
This stunning design will look great in any pit but also greatly decreases the risks of fire damage and injury!
Available in two different sizes, medium and large.
Part numbers
ORI43022 Battery Safe (Medium)
ORI43023 Battery Safe (Large)
Check them out at Team Orion or your Local shop!