TEK-SCX carbon chassis conversion for Micro-SCT now available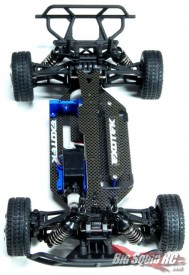 EXOTek is ready to ship their awesome carbon conversion kit for the Losi Micro-SCT and Micro-Rally.  We got a good look at this thing back at RCX, and we were impressed by the build quality, detail, and new ideas.  The TEK-SCX is built on a 1mm carbon fiber weave, which is a tiny weave for a tiny car.  You'll also find some nicely machined aluminum pieces, like the trick, sliding motor mount that is easily adjustable and a unique servo mounting bracket that uses four set-screws to secure the stock servo or many different aftermarket servos.  The kit also includes a mounting bracket for installing the stock Receiver/ESC unit.  But if you're going this far, why not just dump it for a good aftermarket receiver and the micro brushless ESC and motor?  I think you totally should.
The TEK-SCK kit is available now, direct from EXOTek at a cost of $65.99.  Hit up the EXOTek website for more info and to buy it.