Thank You for a Great 2008!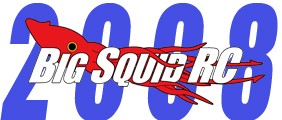 As another year comes to a close, I wanted to take a moment to thank all the people that helped make 2008 an amazing year for Big Squid RC. We grew leaps and bounds this year, and really have started to make some waves in the world of internet RC. From our viral videos, to our very much copied style, terms, and stories. We are happy to be the leaders watching the others scramble to be just like us. We woke up a lot of companies at iHobby Expo, and we promise to keep bringing you eye opening and original work in 2009!
Thanks to all of our readers who faithfully keep coming back for more news, reviews and incite. Keep telling your friends about us!
Thanks to all of our writers: Cubby, Jason Anis, Rey (Stangrey), Wesley Dennis (Microman), and our forum moderators Bill (firespring281) and Chris (thenewguy821).
Thanks and good luck in 2009 to our Pro Driver Tim Mohr! We can't wait to watch you take over the electric 1/8th scale world!
Thanks to everyone who helped make iHobby Expo such a success for us! We could not of done it without you all! Tim, Jason, Jim, Bill, Chris, Geno, Anna, Ewa, Alfonso, Elizabeth and Cubby!
Finally a huge thanks to all of our sponsors this year! Without you all, we wouldn't be able to pay the electric bill to keep this place running! Make sure to go visit these sites, show your support, and buy their products! Also tell them we said hi. In no particular order:
Duratrax, Max Amps, O'Donnell Racing, Traxxas, Futaba RC, Team Checkpoint, Best RC, HPI Racing, EDS Racing Products, Team Novak, Grand MotorSports, Leisure Hours Hobbies, RC Car Kings, RC Hobbies Naperville, Buku Power, Dragrace Concepts, Acer Racing, Roy Anderson Engineering, Pro-Line Racing, Parma PSE, Schumacher USA and RC Hardware!
Thank you all so very much! Hopefully I didn't miss anyone, if I did, send your mail to Cubby, he gets lonely.
Don't worry, Cubby should be back from his vacation next week (fingers crossed) and you will be able to enjoy your weekly soap box once again.