Thanks Team!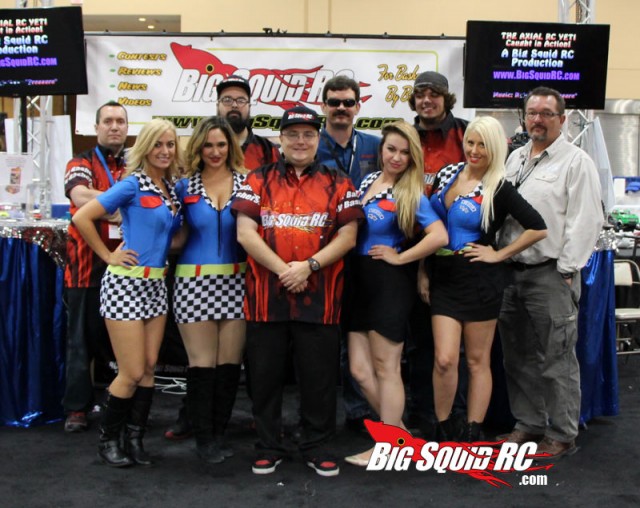 Year after year we strive to go bigger than the last, not only on the website, but at events, shows, bashes, or wherever the Big Squid Crew might be. This year the Big Squid RC Crew went above and beyond expectations at iHobby 2014! Our schedule was insane with two huge product unveils, our own print unveil, 2 surface demos a day, and 2 flying cage demos a day. To say our down time was short would be a serious understatement. Weeks before, the show preparations were well on their way, and there wasn't a day that went by that I didn't think we would be able to pull it all off. Everyone stepped it up a notch and while things seemed impossible even while we were at the show, it all still worked out.
The weekend shows were amazing, the response we got from industry folks, and consumers was overwhelmingly positive on all fronts. The amount of 'Thank Yous' I got from hobby shop owners and employees was unexpected and very gratifying. It's nice to hear that we are doing positive things for the industry, and that the people we are trying to help appreciate the effort.
I can't thank the manufactures enough for all the support for the giveaways we had at every demo, to the huge announcements of the Pro-Line PRO-MT and Axial Yeti XL. Talk about unprecedented! Two of the biggest product announcements of the year came from our booth!
The amount of Dromida Ominus (Omini?) we gave away at the flying cage was crazy, and several people came up to me after our premiere flying demos to tell me that was the most spectators and the most excitement the cage had seen in years. We couldn't of pulled that off without the support from Hobbico!
I'd like to personally thank Craig the Crazy Ramp Builder, Wrench, 3DBill, Adam the Intern, Don Juan, Tim Mohr, Cubby, Kevin 'Tomato Sauce', Jack H. Doug, and of course the real reasons our booth was packed all weekend, Sarah, Ana, Iza, Mandi and Teresa! We have quite the band of misfits, but everyone of them was vital to pulling off an amazing show. Not everyone is pictured up there, sorry about that, we had a few missing on picture day. You guys all rock!
Thank You!
-Brian
Almost forgot it's Friday! Here are two awesome, and on topic mystery pictures.
Pic 1, Pic 2. We have come a long way.