Ares RC Ethos QX 75 Quadcopter Review Plus Video
Ares RC Ethos QX 75 Quadcopter Review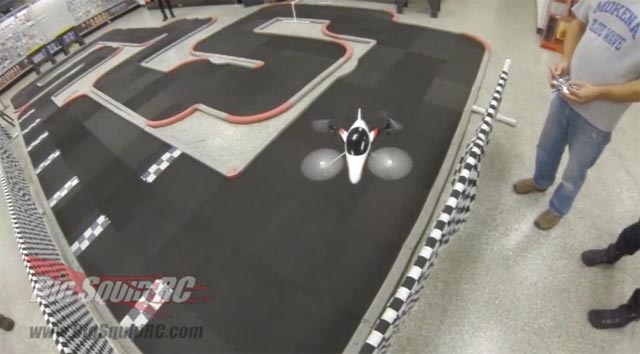 Quadcopters have suddenly become all the rage. Everywhere you turn, someone is releasing a new one to the market. The Ares RC Ethos QX 75 has thrown it's hat into the ring, and is ready to take on the competition. Turns out this one has a few tricks up it's sleeve, and we even have a video showing off a few of these tricks. Keep reading to find out how this rc quad stacks up….
From: Ares RC
Direct Link: The Ethos is a Hobby Town Exclusive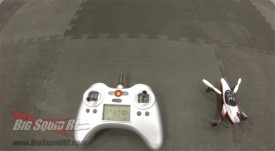 Build Quality: Out of the box, everything was good. We didn't have any issues that needed to be resolved before flying.
Test Drivers: Brian, Wrench (Bill)
Test Venues: Indoors at Hobby Town USA – Orland Park, IL. Parking Lot
Set-up Notes: If you are new to the Quadcopter or flying scene, you'll probably want to turn down the control rates a little till you get used to flying and correcting. The lower rates keep you from over correcting till you get the feel of it.
Not much else needs to be done as far as a setup goes, but charging the 300 mah battery with the provided wall charger feels like a long time.
Stability: The Ethos is stable once you get up off the ground high enough away from the backwash of the blades. Newbies always think they need to stay close to the ground in case they have to bail before a crash or get out of control, but it's actually much more difficult to fly that low because of all the air moving and bouncing around. Once you have taken off, you will probably spend a little time making small adjustments to get the quad to sit how you want.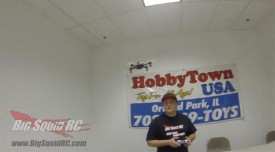 Flying: Overall flying of the Ethos was decent. It's not the fastest mini quad on the market, but it's easy to fly for anyone looking to get into quads. After you are used to the flying, it's time to really have some fun with the Auto Flip feature! On the top left of the controller, there is a flip button. When you press it, it will start to beep to let you know it's ready. Then all you need to do is pick a direction with the right control stick, and the quad will do a quick snap flip in that direction! You will loose some height when this happens, and after the flip it's up to you to finish the recovery. We found this to be a real blast! The challenge of the recovery was loads of fun and kept things interesting.
While most of our flying was indoors, the Ethos does have enough power to let you get outside if there is very little wind. Getting out into the open air with a lot more space to move around is a nice feeling. You can also get a little braver and test out the speeds without worrying about walls, or people too much.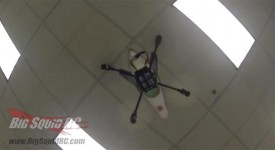 Radio: The radio is far from the norm. With the new generation of gamers holding XBox360 and PS3 controllers in their hands, it makes sense to change up what seems long overdue! Why not have a controller that's actually ergonomic in your hands? The controller feels good and has a nice fit.
Misc Notes:
While the Ethos feels slightly less stable than some of it's competition, it makes up for it with the ability to pull off a 360 flip on command! You can see some of the wobbles in the video, but don't let them scare you off. Overall it's a great micro quad at a great price!
Durability: The Ares Ethos is very durable. We were messing around a lot which caused all sorts of crashes into all sorts of obstacles. We had a few failed flip attempts, and the quad didn't seem to mind a bit! You can see a few crashes in the video, but trust me, we were slamming into all sorts of stuff with no problems.
Best Mod Under $5:
The black and white can make it a little difficult to see sometimes. Especially when you have a lot of white walls! Toss some color on there, and hunt down some different color blades. A nice orange or bright green would be good, and help you keep track of where you are facing.
Enjoy the video:
---
As with all of our stuff, if you see us at a bash, stop by and check out the vehicles we have with us. We may let you take a test drive, and at the very least get you some stickers!
SUMMARY
Time To Bash – 8.0/10 – Wall chargers seem to charge slower when you stare at them, but it wasn't too long before we were up and flying
Workability – 9.0/10 – There isn't much to do or fix on the quad, but it's easy if you need to.
Car Show Rating – 8.0/10 – The Ethos has a modern aerospace look to it, but some people think it's a little plain in the paint department.
Bash-A-Bility – 10/10 – We have crashed this thing and run it into walls dozens of times without any issues.
Fun Factor – 9.0/10 – The auto flip feature leaves all the competition in the dust. Even though it does most of the hard work for you, you still need to do the recovery, and it looks darn impressive and feels great when you do it.
Handling – 8.0/10 – It's not quite at stable or smooth in the air as a few of the other micro quads out there, but it still easy to fly.
Value- 9.0/10 – For $79, the Ethos will bring tons of fun while filling that space you have for wanting to fly!
Big Squid Rating – 8.7/10 – Tentacles.. From the low price, to the awesome 360 degree flips that make you look like a rock star, the Ethos should be added to your shopping list if you are in the market for a quad!