THE Cub Report, 01.06.2014, Version- SLaM'n Dom Like a Boss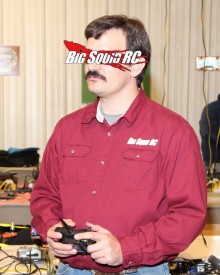 Hey now everyone, I hope your Monday isn't nearly as snow filled as it is here, and welcome to yet another funtabulous Cub Report.
Golly gee I love it when a new year kicks off, it means two things- Supercross and Dakar. The 2014 Supercross season started up last night in Anaheim and it totally lived up to the hype. Bringing back the semi-final races was great, and the action on track was epic all night long. The big winners? KTM. They went 1-2 (K-Roc & Dungey) in the big boy main and KTM mounted Jason Anderson laid the smack down in the 250s. The big losers? James Stewart, who once again wadded it up going for the win, and Tomac, who got into it with Jake Weimer and ended up missing the main. To boil it down, A1 was fantastic, can't wait till Saturday when round 2 goes off.
Hey, we are all done with testing for our latest shootout and you can expect to see it go up later this week. To get a bit more specific, quads are hot, so we gathered up 4 quads and put them to the test. The combatants were- LaTrax Alias, Ares Ethos 130, Blade 180, and Align M424. We put them through the same set of tests as our first quad shootout, but these are somewhat larger quads than the first go around. Who won? Even I don't know yet, but if you dig shootouts, you should like this one, even if you aren't a four-rotor type of person.
Do you know what really sucks about being an industry insider? There is so much good, juicy news behind the scenes, but I am not allowed to utter one word about it. "Sigh". On one hand, BSRC is all about posting all the "behind the scene" scoops that we can, but on the other, posting one word about certain subjects and I will never be trusted again (not that I am the most "trusted" man in rc now… LOL).
I am known for teasing here in THE Cub Report, and sometime I do it just for kicks, this time I would soooo rather just give everyone the hook up, but can't. And… sometimes I can "tease" certain news and even give dates, then the news falls through and the tease never turns out at all. Anyways, I know this is about as vague as it gets, but with any luck we are couple weeks away from posting some seriously cool rc news, and we should have the scoop on it.
Oh ya, getting the "scoop" is another whole ball of wax. Many times "deals" are made with different media outlets to bust out the scoop, and getting that deal can be a matter of friendship, or can even be a matter of compensation (read $$$$$). It isn't uncommon for dern near everyone in the industry to know about Happy Flowers new truck, but can't say a dern thing because they've given the "exclusive" to the dinosaur media in exchange for a cover shot (which very few people will ever see in person… Haha!). And you all know how I feel about the word "exclusive", it just doesn't exist today. Ok, it might for a few minutes, heck maybe even a few hours, but in today's internet world it never lasts long.
So what in the freak'n world is my point here? My point is that everything kick ass I would like to be writing in THE Cub Report today is off limits. Not by us of course, but by the different entities behind the news. Yes, it sure is cool to get the inside scoop, but what good is a scoop if we can't hook up our readers with it??? It sure is frustrating on this side, just say'n…
That's it for this week, we'll post the good stuff when we can, and I hope you support your local hobby shops and bash spots when you get chance.
YOUR Cub Reporter