THE Cub Report, 01.10.2014, Version- What Goes Up, Must Come Down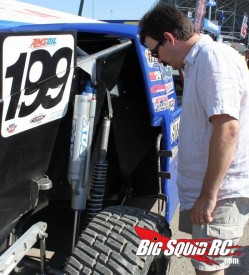 What is going on at Traxxas? I suppose if you are a consumer all you notice is that their RTRs are still on the shelves and your LHS still has a-arms in stock, but we (and other industry types) tend to notice other things. Like… I haven't seen hide nor hair of Traxxas during any of the AMA Supercross broadcasts this year. In the past you would see their banners everywhere, from the stadium floor to the victory podium, but not this year. You would also see their logo on the Pro-Circuit Kawasaki team, once again it seems to be long gone. Then there is the TORC series, which they also seem to be completely gone from. And… when we hit up our local Feld Monster Truck event over the weekend, a year ago Traxxas was everywhere, this year, totally absent.
I am only throwing out the question of "What is going on at Traxxas?" because I seem to be the devil to them, therefore they are not going to shoot me a text/email/phone call to let me know what's up. So that leaves me to sit here and speculate, something I love to do. 🙂 To break it down, there can only be a couple of possibilities of what's up. On the bright side, maybe they've just decided to go another route with their marketing dollars, like banking them and not spending them at all. On the not so bright side, maybe the marketing dollars just don't exist anymore. Any which way, most rc people, including myself, hoped that Traxxas's marketing to the mainstream would continue forever as it was good for the entire industry, but that seems not to be the case, it looks like it has come to an end. And while I love to hate on Traxxas, I love to love on Traxxas when they are kicking ass, and I am definitely not stoked to see them pulling out of the mainstream. Heck, I don't think anyone other than their competitors are.
I have heard multiple industry insiders say that the entire surface rc industry has been surfing along on Traxxas's wake since the T-Maxx, a point that I don't think I would argue, but with Traxxas seemingly pulling out of mainstream marketing and with their apparent reduction of innovative new products, that big old coattail may not be there to ride on much longer. Traxxas is still at the top of the sales heap, but for how much longer?
So who is going to pick up the ball and run with it if Traxxas is indeed dropping it? There are a whole lot of hungry companies out there that want to be the king that sits on top of the hill. Associated had a long run at the top, then Traxxas had a decade and a half, who's next???? More on this in the coming months…
On a different note….
Hey, wanna rub elbows with the freaks known as the BigSquidRC Bash Crew? Wanna give me a piece of your mind in person? Want to even give us a pat on the back? Well you can do that this weekend at E-Fest in Champaign Illinois. We'll have a booth promoting the Quad Championships as well as giving consumers (and industry types) more information on what we are all about. To get more information on E-Fest click This Link.
Have you noticed the BigSquidRC/Ares/Heli-Max/Blade Quadcopter Championships are just 19 days away??? Which pilot (or pilots) are going to instantly vault to Rockstar status? What brand quads are going to win? There has been some heavy speculation going on that's for sure. While we virtually have no idea what pilots might show up and take home the hardware, several staffers have been going back and forth on which quad is best suited for winning each class. If you haven't made plans to attend why not pencil it in. Hit'n the Quad Championships in Chi-Town is a perfect excuse for a roadtrip. Come be a part of something new and cool, make some new friends, get some free stuff, and have a killer day fly'n quads.
Oh and hey, there is just a few more hours in our sweet Pro-Line Valentines Giveaway, be sure and get your entry in. Hit This Link to get your entry in ASAP.
Yo that's it for this week, but I need to bust out some props to Jeff Hoy for his work on the website lately. It's not a lot you can see on the outside, but it sure helps out behind the scenes. Also big props to Iron Mike, Tomato Sauce, and Dougie Doug for not quitting (we certainly don't make it easy on the new guys) and busting out weekly columns. Somehow we manage to take BigSquidRC up a notch every year, thanks to them our 2014 is off to an epic start.
Support your local hobby shops, I know I say that every week, but myself and the entire BSRC crew really mean it, and hit up your local bash spot when there isn't a foot of snow covering it.
YOUR Cub Reporter