THE Cub Report, 01.14.2013, Version- Akrapovic Apocalypse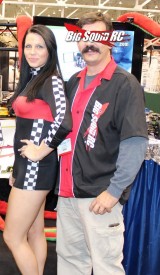 Hey guys, happy Monday, and welcome to yet another funk-a-licious edition of THE Cub Report. Put your head down, charge forward, and before you know it we'll be sitting at the weekend.
That wacky carnival also known as the AMA Supercross series went through Phoenix on Saturday night. Dungey couldn't beat Jimmy Albertson in the LCQ, Bubba smoked the qual but looked like his bike was stuck in second during the main, RV2 hit the dirt again, Speedy Reedy is keeping it real (real conservative), Canard continues to impress, Bam-Bam got his first big boy pants win, and Davi left the stadium with his points lead. Overall, one heck of an evening of racing. Oh ya, and Traxxas was once again all over the place with their cross-advertising, props to them.
So… last week I was a bit preoccupied, but this week is all about the future, more specifically what lies ahead for BigSquidRC, and for you, our readers, in 2013. First up for "changes" would have to be our announcement that BigSquidRC is not just doing car/truck coverage anymore, we are now covering the entire hobby grade spectrum- cars/trucks/heli's/planes/quads/boats etc.
And here's why- because that's where the market is heading. While the mainstream media sources may still be telling you it's bad to mix and mingle, and that you should only get into smaller and smaller niches, there are two pretty important factions going the opposite direction. 1. The manufactures have been pushing broader product catalogs for quite some time (Traxxas and Firelands Group adding air products are recent examples of this), and 2. the average Joe-Blow consumer is increasingly ignoring all the hype and has been buying whatever strikes their fancy, whether it be air, sea, or land. 3. Younger consumers, those who grew up on the internet, tend to be more global (as in, not confined to just surface or air) buyers.
For certain contributors here at BigSquidRC, covering all the major groups of the hobby grade rc market is quite simple. For example, perhaps the majority of the contributors here have been surface guys, but they have also been into boats and also played with planes and heli's whenever they found one they liked. Other contributors here are completely the opposite- they have been programmed hard by the media sources to only like one segment of the hobby (cars/trucks) while ignoring others (like air and water) as useless and uninteresting. Today you can still see the mainstream media sources preaching this theme, to only like this or that, and to get into smaller and smaller niches. For example, these media sources will preach "just do surface", and the flavor of the week is "scale crawling", so just do that because everything else sucks. Then surely enough, 6 months later, forget about scale crawling, "rally cars" are the only thing you should be interested in. We aim to cover everything the best we can and let you guys and your various tastes make the smart decision on what you eventually spend your cash on.
Now I've been as bad as anyone at pushing one thing or another over the years, perhaps the only thing I have stayed consistent on is not being resistant to change, especially when it's for the overall good of the hobby. Yes indeed, I've railed on the air and boat scene just because I never had an interest in them, and railed on mainstream media with the word "car" in their title when they touched a boat or an aircraft (luckily BSRC doesn't contain any such limiting words), but even I can realize where our hobby is heading.
To boil it down, we've already seen a lot of synergy between air, sea and ground, on both the manufacturing and consumer levels, and it's going to do nothing but grow, so BigSquidRC is going to broaden its coverage. We'll remain surface heavy of course, but we'll be covering what most "basher types" would find interesting in the air and water markets as well.
Big change number 2 for 2013- the words "live interactive content" has been extremely mis-used over the years, but we'll finally be taking it to a level where it'll be worthwhile. For instance- BigSquidRC will be covering a big indoor flight event, E-Fest in Champaign Illinois, about a month from now. Yes, we'll be posting our normal coverage, but in addition, we'll be doing a live G+ feed, where not only can you view the event live (and see what we are doing live), but you'll be able to jump in on the feed, live on your own camera and mic. This will not only give you an unprecedented live look at an event that you've probably never seen before, but you'll be able to talk with the BSRC staff in real time while we are there, and the world can catch a glimpse of you and hear your comments live.
Now certainly, this is virgin territory for us, and there are a lot of bugs to get worked out, and it will certainly be quite a learning process, but you will be able to come along with us, every step of the way. Our weekly Wednesday night G+ Live shows will become increasingly focused on more involvement from you guys, and we'll be doing more and more G+ Live segments from every event we attend. The emphasis being, you may be stuck in a cubicle in Cedar Rapids, or a dorm room in Denver, yet you'll be able to be able to be a part of all the live action from an rc show we are covering in Toledo, or an unboxing we are doing at the BSRC offices, or even be right there with us while we are testing a new truck down at the local track.
Yes, we've bit off a lot for 2013 my friends, and we might just be crazy enough to pull it off. Enjoy the ride, it should be a wild one.
That's it for now guys, have a great week and be sure to support your local hobby shops and bash spots.
YOUR Cub Reporter