THE Cub Report, 01.20.2014, Version- Blinded by Thomas Dolby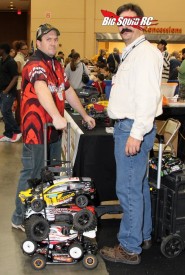 Hello RC fans, yup, it's another Monday and time for THE Freak'n Cub Report.
Ok, so lets say you used to ride dirtbikes, or lets say you used to follow the mx/sx scene but haven't for a while. I gotta say you might want to consider getting back into the scene as last nights (Saturday) Supercross in Anaheim might have been a top 5 of all time event.
Off the start an angry Dunge took off like a rocket, only to wash out and crash. Then Bubba took over looking like the 259 of old, only to get slammed by the mighty Leprechaun (not once but twice). Stew stayed on two wheels while RV2 went down, and it looked like the show was over. Then, seemingly out of nowhere, the formerly "washed up" Chad Reed rode from the back to finally catch Bubba, pass him, and take a long overdue win. But the action wasn't even over yet, as the Dunginator took out RV2 in the last corner to put an exclamation mark on his hack filled night. Ok, my words do not do the race justice, but trust me on this one, if you are remotely into moto get that DVR of yours set up to record the remaining Supercross rounds on Fox 1.
In the rc world…
I don't have to tell you that quads are scalding hot right now, and last week I teased that we are doing a quad event. Well here's some more info for ya. March 1st 2014 we'll be putting on the 2014 BigSquidRC Quadcopter Championships. We'll be holding the event at a HobbyTown USA in Orland Park Illinois, which is basically in a southeastern burb of the Chi-Town metro (just off of I-80). You, yes YOU, are invited to bring your quad (or quads) to enjoy a day of flying, smack talk, and living the rc life.
The Quadcopter Championships will consist of 3 different classes based upon the size of your quad. We'll be holding a "Nano" class for quads the size of the Estes Proto X. The next size up with be the "Micro" class for quads the size of a Heli-Max 1SQ. The largest class we'll be holding will be the "Mini" class for quads the size of those in our last shootout like the Ares 130. You can enter one class, or you can enter all three, that's up to you. Oh ya, our entry fee is super low, $5 per class.
And… while the name of our event might have the word "Championship" in it, it won't be like a typical car event that is all about stress'n and flip'n out, it is all about some friendly competition and having fun with fellow hobbyists.
So… just how will we determine the winners? There will be three events to compete in and the scores from all three events will be used to determine the results. If you do poorly in one event you still have a shot at the win if you do well in the other two events. At the end of the day we'll be handing out some sweet trophies (or plaques) to the top three overall in each class. As a cool bonus, the winner of each class will also go home with a brand new Quadcopter. And… of course we'll have some cool door prizes to give away, so even if you don't place top 3 chances are good you won't be going home empty handed.
For all you pilots out there, if you want to come and show the world you are the best, that's great, but if you want to just come and have some fun flying your quad that is even better. If you are an industry type, of course you are also invited. The event is about 2 hours north of the epicenter of the rc world, Champaign Illinois, and you are cordually invited to compete and to just hang out with a bunch of gnar-core quad consumers. Also, if you want to have your brand and products associated with the event, be sure and shoot Brian an email (hit the contact us link at the top of this page) to get in on what is certain to be the biggest, most kick ass quad event ever held.
That's it for this week, support your local hobby shops and bash spot when ya can, and we'd really like to see you at our quad event in a few weeks.
YOUR Cub Reporter