THE Cub Report, 01.27.2014, Version- Searching for a Daniel LuVisi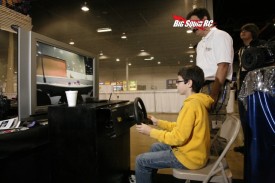 Happiest of Mondays to you rc fans, I know the weather is less than optimal in some parts of the country, but the rc industry keeps on roll'n regardless.
I am deeply saddened and in a perpetual state of numbness because there still has been no "official" word on how Michael Schumacher is doing. To some people, people who have never been through such a thing, no news is probably good news. Sadly, having been down that road before, I know that being in a medically induced coma for this long is never a good thing. Miracles can happen and I sincerely hope the Schumacher family gets one. Regardless of the outcome, I will always remember fondly the sunny days that Schu piloted a blazing red Ferrari to victory, his epic drives in the rain behind the wheel of a Benetton, and his euphoric antics on the podium when the German national anthem was done playing.
Anyways… on to rc…
Ok, so the BigSquidRC Quadcopter Championships are coming up on March 1st right here in Chicago Illinois. I wrote last week about the classes and such, this week I get the pleasure of announcing the first big sponsor- Ares. Maybe you are a surface guy and aren't into the air scene, but Ares is the air division of Firelands Group, and are available exclusively at HobbyTown USA stores. Their air products have been proven to be top notch, they have won both of our quadcopter shootouts, and a number of "serious" quad fliers won't use anything else. It's cool that Ares is on board for the big show and we'll be announcing more sponsors next week. If your company wants in on a great way of showcasing quad products, hit the "Contact Us" link and shoot Brian an email.
Personally, I can't wait to see which machines win at the BQC. I know the Heli-Max stuff is good, I know that Blade also makes solid product, and it will be interesting to see how other companies like Ares and Traxxas (Hubsan) stack up. It will also be cool to see how the Quadcopter Championships affects the quad industry. Will a win help separate one brand from the pack? Will the aftermarket start making hop-up parts for the winning quads? That whole part of the industry is so new I can't wait to see how it evolves and to see how our Quad Championships (and our future) events help shape it.
On the participant side of things, there are no big "established" names to compete against, who will be the first? Will guys that normally fly planes or helis dominate the event, or will it be a new name that just specializes in quads? I will say that whoever wins will get a pretty cool trophy, a brand new quad, and we'll be doing a feature article on them and their flying machine for the front page of BigSquidRC (read- instant rockstar).
On the surface side of things everyone is kind of waiting for Nuremburg. A number of companies have some cool new products that they are holding off till the show, and we can't wait to get them posted up. The show starts in just 2 days and of course we'll be hooking ya up with some killer coverage. Ya, there is a ton of cool stuff on the market right now, but like always, there is a whole bunch more on the way.
Lastly… our review of the 2014 Thunder Tiger ST4 G3 truggy goes up later this week. It is one of those vehicles that is a "King of the Hill" type bash machine. If you are looking for something at the top end of the bashing spectrum, it is a review you will be interested in. Plus, we'll be bringing you all the daily news, Spaghetti Sauce's Quad column, Doug's scale column, and of course ASK Cubby on Thursday.
That's it ya freaks, support your local hobby shops and bash spots when ya can.
YOUR Cub Reporter