THE Cub Report, 01.28.2013, Version- Chasing The Seattle Seven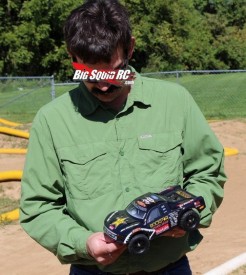 Welcome to another big week in rc, and thanks for tuning in to yet another CR. Last week was a busy week as many manufactures were intro'ing new product in advance of the Nuremberg show, with plenty more to be released when the doors open a couple days from now.
We'll be covering the Nuremberg Toy Fair for you guys, mark it on your calenders for Jan 30th through February 2nd, and this year should be epic. Horizon had a relatively "quiet" 2012, but they are pushing full steam ahead for 2013, and proof of this will be found at Nuremberg. Horizon released the first teaser for their all new surface brand last week (btw- they really need to hire me to do their teasers for them, or heck even Stevie Wonder), and they'll be doing a huge reveal at the Nuremberg show. Good for them for pump'n up their new line, it's not every day a company introduces a new brand.
Other companies are busting it huge for Nuremberg too. HPI is showing their new Octane game changers (for the second year in a row), and word is Traxxas has something big lined up for the show as well. For ultra high-end gear, Serpent has been busy blowing up lately, and they are showing their all new 2wd 10th scale race machine for the first time in the flesh. Not to mention dozens of other companies that will be showing all new gear, Nuremberg 2013 has all the makings of their best show ever.
Also in trade show news, after a very soft iHobby 2012 in Ohio, they are headed back to the greater Chic-town metro area this year. The dates are Oct 3-6th, a bit earlier than usual (thank goodness, it might not be so freak'n cold), and their new venue, the Schaumburg Convention Center should be sweet. It's in an easily accessible part of Chicago, the venue was built not too long ago so it should be all new and sparkly looking, and it should save exhibitors some cash compared to the old Rosemont. The Chicago consumers are notorious for busting big numbers when iHobby comes back to town, plus there are new peeps behind the scenes at iHobby, so iHobby 2013 is looking to be epic as well.
Enough trade show news…
Oh what the hell, one more (of sorts)…
Mark your calenders for February 9th. That's the date for a big indoor rc air show in Champaign Illinois called E-Fest and we'll be doing some nutty live coverage there. What's it like to be a bunch of wacky surface guys at a big air meet? Find out along with us on Feb 9th. We'll be doing posts from the show, as well as some sic live show coverage. And not just a webcam aimed out at the crowd, it'll be some pretty neat live interactive video. Even if you don't like air stuff (I know I don't), hopefully you'll dig us goofing around like monkeys just for your enjoyment.
On a different note…
I haven't been following WireGate much this week, to me it was pretty much over by last weekend. Here is the simple scoop- the BIG winner here is Trinity (or Epic, or whatever they are calling themselves now days). It's not a matter of legality, this is a matter of publicity, and Trinity has received the type of advertising you just can't buy from all this. Trinity was still known in stock racing circles, but most everywhere else they were written off. After all the publicity that ROAR has given them, Trinity is back on the map with mainstream rc'ers, so mark this one down as a BIG win for Trinity here, regardless if their motor is or isn't legal.
So, the big loser in WireGate is ROAR, and here's why- their credibility right now has been shot to hell. I mean, they declared a product legal 10 months ago, and the product didn't change, and now it's illegal? Ya, it puts a doubt in the back of everyones mind. How many other products out there are not legal? Can they be trusted to uphold their own rules? If they dropped the ball once, who is to say they won't do it again? Trust, ROAR has lost it, and not just with racers, but on the industry side as well, and it's incredibly hard to get back.
And moving on…
Social media– dinosaur media is all over it, on every other paper page you see a "Hey, why don't you put down our mag, skip our website, and cruise on over to our FB page!" blurb. Yes, for sure social media is an important marketing tool now days, but for us media types, we don't get paid for hits on our FB or G+ page, we are only able to make money when people visit our dot com. And personally, I'd rather a few bucks go in my pocket to keep me and my family fed instead of them going into Mark Zuckerbergs. So what is the point I am getting too? Well there are a couple…
First off, we are going to introduce our newest social media page on Wednesday. There is a social media site that is more popular among the teen crowd than even Facebook, so that might give you a hint, but check in on Wednesday to our main page to find out, and check out our BigSquidRC LIVE Show Wednesday night for all the details. Also of note- we've been doing posts on our all our different social network pages that you won't find on the other social pages or our dot com, so if you are looking to see everything we post each day, you'll have to check them all out.
But… the real point I'm trying to make here is this- if you are big Facebook fan and only follow BigSquidRC on FB, two things are happening right now-
1. Only by you visiting our dot com can we show our advertisers that you are supporting us (and thus them). If we can't show our advertisers that you are supporting BigSquidRC, then we can't eat, and if we can't eat, we can't keep posting all the uber stuff we do.
2. We've hit that point with Facebook that their dreaded "algorithm" is kicking in. What this means is that while we may post 6 times a day on FB, only one (or two or three) of these posts may actually make it to your FB news feed. FB now charges money to ensure every post is actually seen by everyone that likes our page. We would have to spend thousands of dollars PER DAY to make sure every single person that likes BigSquidRC received every one of our posts. That is something we can not do.
This will be the second time I've ever asked for your guys help, and here it goes-
If you are big FB'er and want to help BigSquidRC, please "Like", "Share" and "Comment" on our FB posts when you dig them. You can also help us by suggesting or inviting friends to "Like" our FB page. You can also help us by setting up your notifications on FB, when you do this you will get a notification every time we post on FB, thus making sure you don't miss anything. And lastly, simply visit BigSquidRC.com every once in a while instead of only viewing our content on FB. A bookmark is quick and easy to set-up on your browser, and it'll help keep our doors open. Oh and thanks ahead of time, from the entire crew here.
Lastly…
Big week ahead of us here at BigSquidRC. Brian will finally be posting our second transmitter shootout, Adam "The Intern" will be posting a new Axial review, I'll be posting reviews on the Radient Reaktor brushless system and IMaxRC X200 battery charger, and we'll have our BigSquidRC LIVE show going on Wednesday night at 9 pm CST. Throw in some Nuremberg Toy Fair coverage and hopefully we'll have plenty of cool stuff for you guys to read and look at this week.
That's it for this week guys, as always, thank you for your support here at BigSquidRC, and please support your local hobby shops and bash spots when ya can.
YOUR Cub Reporter