THE Cub Report- 01.29.2012- Country Fried Chicken Version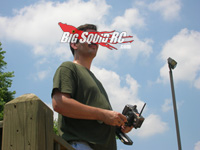 James "Cow" Stewart didn't crash last night in Oakland, so of course he won! While his new "Cow" nickname isn't particularly funny (or catchy), it certain seems to hold true- Crash Or Win. Stew dedicated last nights win to his practice mechanic Mark "Tex" Adams who tragically passed away during the week. Our thoughts and prayers go out to the Tex's family and friends.
The 2012 rc racing season officially kicked off a couple weeks ago in Ohio, and last week the Reedy Race was where all the big hitters were hanging out. Ryan Cav put it to the invitational class in 2wd with his B4.1, and after 3 rounds of 4wd (when I am actually writing this) his AE teammate Ryan Maifield is asserting his dominance with his B44.1. No doubt the entire AE team has their act together, but the bigger question is- what is it going to take to make average consumers care about the ufo classes again?
So… what was the biggest rc news from the week? Easy- the announcement of Traxxas as a major sponsor of NHRA drag racing. Traxxas aren't just a little itty bitty sponsor, they are now heavily invested in NHRA drag racing for years to come. I absolutely dig seeing Traxxas step up to the plate and cut yet another Huge check to market to the masses (but then I am a marketing guy). The rc hobby needs new blood in order to survive and Traxxas is going above and beyond to do their part, HUGE kudos to them.
But… when you hit the track and talk to the local yocals most of them aren't so happy to see the mighty TRX put all their cash into drag racing, banners and tv ads. The locals talk about how Traxxas has already done more than their fair share and now it's time for somebody else to step up. You hear locals talk about how Traxxas should have spent the millions that they'll be investing in drag racing into updating their ever aging product line-up, or to spend all that cash on nitro engine research. These are both good solid points, as the Rustler and Pede platforms were developed just after the Earth cooled, and we all know the rc world WILL be dominated by nitro again at some point. I have no doubt that a couple million bucks spent by Traxxas developing the next gen nitro engine will yield huge dividends when it single handedly turns the rc world back to nitro dominance from the evil flashlight age we live in today. But on the other hand, what good is the perfect (read- starts perfectly every time, never needs tuning, runs for gallons without issues) nitro engine if there is nobody there to buy it?
And in new product news…
Anza has released a bunch of uber hop-up parts for the Traxxas Slash. Who's Anza again? Well… they are a division of Firelands Group (started by Gil Losi Jr and Mike Gillette), the company that does the Helion truck line-up for HobbyTown USA's. The new Anza parts look sic with incredible build quality at a decent price point. If you are in the market for some uber upgrades for your Traxxas Slash check out the new stuff from Anza.
Yay to Pro-Line for putting out their way-super-duper-dope ProTrac suspension kit for the Traxxas Slash 4×4. It seems like everybody has a 4wd Slash now days, so if you are looking to take your suspension to the next level (or just want to have the trickest set-up on your block) then the ProTrac kit should be considered a must buy. The ProTrac set-up I have on my Slash 2wd works amazingly well, I can only imagine it'll work equally well on the 4wd.
MIP. Some of you new school guys may have never heard of them, but within the industry they are the real deal. The guys over at MIP don't release a lot of new product, they only put out new gear when it's really needed, and they don't release anything till it's perfected. Well… as you saw on the BSRC front page MIP is releasing new Real Shocks for the rc world. If the outside of your truck looks scale, shouldn't the innards of its shocks work and look scale to boot? Regular rc shock pistons offer the exact same damping for both rebound and compression, the new MIP's not only look more scale but also have different damping rates for the compression and rebound strokes. And while these pistons might be an item you can't see from the outside, I can't wait to get my hands on a set and see how they perform on a gnarly blown out rc track.
One last thing while I have you here…
We received a lot of love mail and hate mail about the Duratrax buggy unboxing video we posted last week. The whole idea of the video was- 1. to be different, 2. to be funny, and 3. to create some buzz. I guess some people just couldn't wrap their heads around why we'd have a person who knew nothing about rc do the actual unboxing. LOL. Now you know, and yes the video seemed to work exactly as planned. 🙂
That's it, I'm serious! Support your local hobby shops, tracks and bash spots!
YOUR Cub Reporter