THE Cub Report, 01.24.09, Version Ode to Chianelli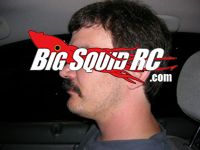 As everyone has already heard, perhaps the best known media man in our industry passed away this week- Chris Chianelli. Yes, I've got my stories about Chris (just like everyone else that has worked in this industry) and all of mine involve huge smiles and good times. He was a man of tremendous charisma, as it was always a pleasure to be around him. I hope tracks around the country pause for a moment of silence in his honor this weekend.
Chianelli- GodSpeed to you. Where you are at I hope- all the tracks are perfectly watered, all the marshals fast, there is never a computer glitch in the timing system, parts never break, batteries never dump, and you know all your work in this industry has been immensely appreciated.
Hard to move on from that subject, but let's jump over to something happy, like Ryan Cavalieri re-signing with Pro-Line for 09′. While many people say all the top drivers are "helpful and nice to everyone", Pudge truly is the nicest guy in the pit, and one of the few elite guys that is cool to even the biggest squid at the track.
Ok, ok, yes, yes! It's time for the scoop on Kyosho America. Last weekend, Gil Losi Sr. announced (gave some people heart attacks) at the Chili Bowl race in Oklahoma that he had bought Kyosho USA . Now, for most rational people who weren't there, it just had to be a rumor and/or joke. Turns out the scoop is that Pops was just testing the waters of the public opinion at the Chili Bowl with his announcement. So no, he did not/has not bought Kyosho USA. But, the rumors that Kyosho USA is in financial trouble have grown stronger and stronger the last 6 months. Perhaps Kyosho USA is looking to sell. Any which way, here's to hoping that Gil Sr skips anything and everything that has to do with Kyosho, and starts up a new company all together. Rc racing in America needs a US based high end/race oriented company.
That's it for this week gang.
Your Cub Reporter